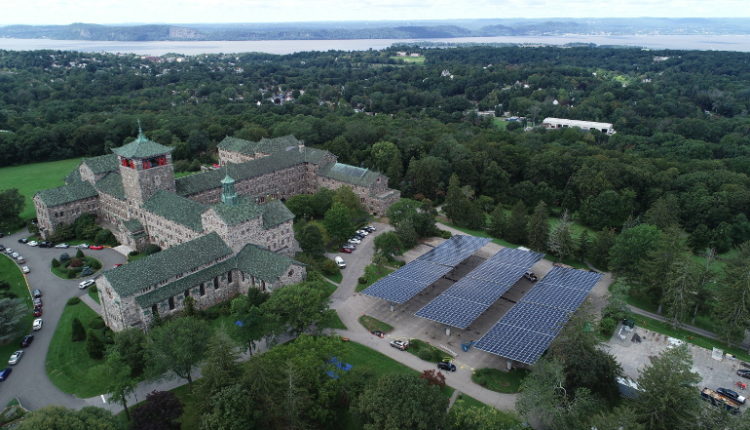 Catholic campus already running 100% on wind power builds solar arrays for community use
Ecogy Energy and GreenSpark Solar have announced the completion of a community-based solar system on the campus of Maryknoll Fathers & Brothers, an American Catholic order of priests and brothers in Ossining, New York. The project consists of 12 Quest Renewables solar carports spread over two parking lots.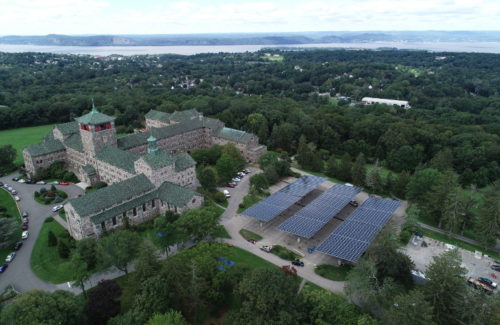 "As Maryknoll Missionaries, we hold environmental awareness very close to our hearts, as this is God's earth," noted Maryknoll's Superior General, Father Raymond Finch, "The stewardship of our environment is critical to continuity, as is self-preservation of is critical to our own survival and that of our community. We are extremely grateful for the opportunity to provide the community with clean resources and contribute to saving our planet."
The solar roof project provides Maryknoll with covered parking, down-firing LED parking lighting to increase nighttime safety and a visible green initiative – all while saving Maryknoll and local community members a 10% discount on electricity bills through community sun.
"Maryknoll Fathers and Brothers have made an integral contribution to our community through outreach, charitable action, diversity and inclusion education and much more," noted Dana Levenberg, Ossining Town Supervisor, "Maryknoll has always been a pillar of light for people in need, so it seems only fitting that community-accessible clean electricity powered by the sun should be their last step on their mission."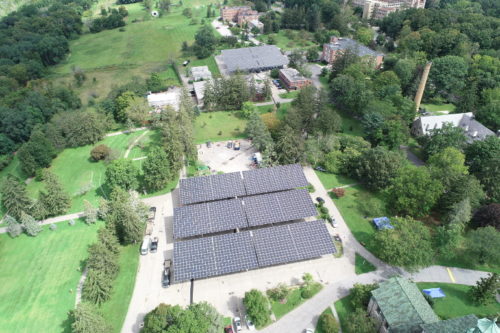 Maryknoll Fathers and Brothers has a long history of stewardship initiatives and operational changes that have reduced the Society's carbon footprint on the property, originally known as Sunset Hill. The entire campus has been running on wind energy for years. Other improvements include updated heating and electrical systems, insulation improvements, hybrid vehicles for the Missioners, recycled paper for their print shop, and many more sustainability improvements.
After careful consideration, Maryknoll chose Brooklyn-based developer, financier and owner-operator Ecogy to continue its sustainability journey. The clean energy generated by this system is available for use through Ecogy's community solar subscription. Ecogy's program gives the surrounding community access to clean energy with a simple subscription process, no registration fees, no cancellation fees and a guaranteed 10% discount for subscribers.
Ecogy and Maryknoll also partnered with Sustainable Westchester, a nonprofit consortium of local governments in Westchester County that enables effective collaboration on sustainability initiatives. Sustainable Westchester played a vital role in the development of this community solar system by helping to tender 30% of the system capacity to surrounding community households.
News item from Ecogy