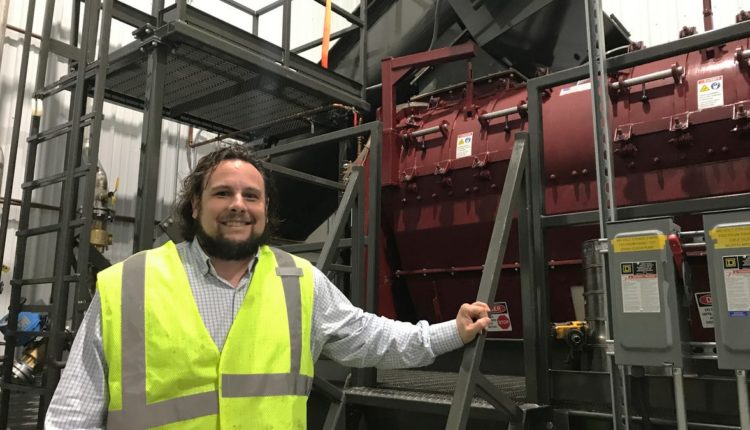 Casella Waste Systems unpacks batches of spoiled food to be recycled
"Off-spec" ice cream, taken out of the package and blended into fuel by Casella
This is how a large truck of rotten ice makes its way through Casella Waste Systems' new de-packaging plant in Williston on May 24, 2021.
Joel Banner Baird, Burlington Free Press
WILLISTON – A load of ice with a trailer on a tractor arrived at a loading dock in Williston on Monday. The cool stuff started to melt in the middle of the morning.
No one rushed to save those barrels of Ben & Jerry's pints; they were already spoiled, or "off-spec," explained CEO Michael Casella Casella Waste Systems.
Nevertheless, another kind of rescue was underway.
Calories from cookie dough – and the nutrients of a number of other packaged foods and drinks considered unsafe or unattractive – are coming to this new unpacking plant to be pressed into a marketable slurry.
It's a place where manufacturers pay not to let their mistakes be made.
A new report: So how is Vermont fighting climate change?
The $ 2.5 million facility, launched this spring, tackles food waste packaged in combinations of plastic, cardboard, glass and metal – i.e. banned from landfills as well as composters.
PREVIOUSLY: Households in Vermont now need to get kitchen scraps out of the trash
About 38% of Vermont's food waste is encapsulated like this, according to the Department of Conservation, and must be trucked at considerable expense to pack plants in Maine or Massachusetts.
Casella's is now a hot ticket for the passage of packaged food to local fuel refineries.
On May 24, a Monday, an empty 8,000-liter tanker truck drove to Williston's loading dock and connected a thick green hose to a plumbing fixture.
When full, its cargo would be delivered Purpose Energy's power plant in South Burlington.
Transformed again, it would eventually end up on the grid.
Fuel for gourmets
Goofs in the labeling are condemning some food batches to the Williston factory, Casella said.
This also applies to containers that are overfilled or underfilled or the contents of which are contaminated or spoiled.
The stock here is impressive: pallets of beer and six cartons of cider; crates of congealed chocolate and croutons; waist-high pockets with undersized coffee pads.
Some of the offerings looked tasty and smelled good.
Perish the thought, Casella advised. It remains off limits to human consumption.
But it's the breakfast of champions for anaerobic bacteria, expelling methane, a flammable gas, at the end of their digestive cycle.
Captured and harvested off-site, at appropriately named anaerobic digesters, that methane is burned to power electrical generators and provide heat; or filtered and pumped in natural gas pipelines.
PREVIOUSLY: Addison County digester connects to Vermont gas lines
Thor's hammers
Converting food scraps into fuel is not easy, smooth or silent.
The Williston-de-pack team is constantly researching and developing, Casella explained, to better balance the shifts in food chemistry, packaging materials, transportation costs and environmental regulations.
Still, he added with a grin, it's kind of fun.
His tour of the site continued with an introduction to "Thor," a van-sized cylinder so named for its spinning, anvil-like hammers that strike packaged food against metal grates.
The packaging is removed and sorted for recycling.
The semi-liquid slurry is piped to three lime green silo-sized tanks, each with a capacity of 15,000 gallons.
At first glance, the de-pack factory has the feel of a foundry from the middle of the industrial revolution.
But the pipes, pumps and valves are littered with sensors. In one corner, a glowing monitor shows the vital signs of each liter of blob as it enters and exits the matrix.
'Recipe management'
Casella considers herself fortunate to have experts around who are eager to understand the mysteries of inedible foods.
Eric Roy, an assistant professor at the University of Vermont Rubenstein School of Environment and Natural Resources, is happy to be of service.
His lab in which the nutrients circulate is bubbling with mini-digesters.
Studying how anaerobic bacteria respond to changing diets – what Casella calls "recipe management" – is one of Roy's academic specialties.
Roy also strives for extremely practical technologies. He teaches at UVM technical school, where he says, "We all get excited when things come together in an affordable way."
Six years ago, the researcher discovered that Casella shared an interest in getting things done on a micro and macro scale. Casella's company agreed to help fund Roy's lab.
With Kate Porterfield, a PhD student, they took a closer look at what happens to the food contents of cans, boxes and jars.
They found "a constellation of compromises," Roy said.
Answers upstream?
Convenience and a longer shelf life argue for modern food packaging, but the costs are not self-evident.
Producers pay Casella to receive their damaged goods. These are costs for doing business, costs that are passed on at the checkout of the supermarket.
Casella pays the operators of digesters to dispose of the energy-rich manure.
Utilities pay a premium for "renewable" electricity or natural gas, just like taxpayers.
Those transactions – plus the cost of dumping food containers that cannot be easily recycled – suggest that society has a lot to learn about managing the planet's resources, Roy and Casella agreed.
The de-pack plant isn't perfect, they add, but it's what Vermonters needs now to cope with the ever-growing mountain of discarded animals.
The Williston company is also urging both men to talk about container-related decisions being made at its food production headquarters, "upstream."
"The big picture," said Roy, "is that the food packaging needs to change. It was not designed to be taken out of its packaging. It is designed to be thrown away. Or recycled. "
His Takeaway: More food consumers and producers need to rethink the afterlife from a pasta sauce jar – or a pint of ice cream.
Contact Joel Banner Baird at 802-660-1843 or joelbaird@freepressmedia.com. Follow him on Twitter @VTgoingUp.
This coverage is only possible with the support of our readers.