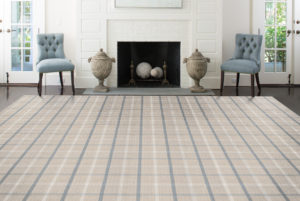 Carpet State of the Industry 2022: Inflation takes wind out of sales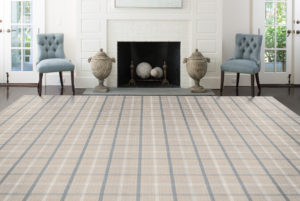 Just as COVID-19 ushered in a period of prosperity for the residential carpet industry that lasted nearly two years, the flip side is that observers feared the pandemic-driven rally would eventually run its course for carpet. It seems the time has come, as those heady double-digit gains have been supplanted by losses, at least on the residential side of the business.
Year-to-date, which includes the first and second quarters, home sales are down 3.4% from the same period last year, according to industry estimates; Home sales in the second quarter have since fallen by 5.4%. In addition, unit volume decreased by 10.3% in the first two quarters compared to 2021; and Q2 square footage was down 10.4%, evidenced by the slowdown in retail.
To put things in context, 2021 stood out as an aberration as residential carpet sales grew 17.2%. More than perhaps any other category, carpet benefited from the events triggered by COVID-19 – work-from-home/school-from-home that led more rooms to use carpet to achieve quieter household conditions.
But now that COVID-19 restrictions have been lifted, carpet no longer enjoys that advantage, observers said. In addition, the industry is now dealing with the cumulative effect of inflationary pressures and increases in commodity prices.
"The trend is not positive," said TM Nuckols, president of The Dixie Group's residential division, referring to the 3.4% decline in residential carpet sales and 10.3% in volume by mid-2022. We don't have any sector figures for Q3 yet, but I don't expect any improvement."
Nuckols said many factors are contributing to this negative tilt, including inflation, rising interest rates, stock market volatility, increased vacation travel and even the upcoming midterm elections. "They are all negatively impacting the housing market this year," he explains. "Compared to 2021 and early 2022, momentum has already slowed significantly. It will take some time for inflation to fall, so I think we will continue to see challenging conditions in the near term."
What hasn't stopped is price increases – up to eight in the last 18 months. As a result, the average selling price (ASP) for carpet is up 11.6% YTD compared to 2021 and was 10.9% higher in the second quarter.
The good news is that the commercial segment has improved significantly. After dropping more than 20 percent in sales and volume in 2020, commercial 2021 ended with a 2.8% increase in sales and flat in square feet. The upward trajectory continued into 2022; Commercial sales since the start of the year are up 16% from 2021, while units are up 7.2%. In the second quarter, commercial sales were up 2.4% and units were up 7.6%, research shows.
Higher end lasts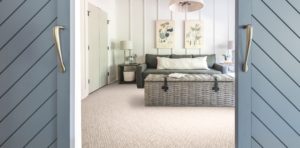 Executives define the high-end/better goods segment as products priced as low as $20 per square foot wholesale—and as high as $50 to $60 for plush soft-surface broadloom.
The main center, still a major focus for factories, generally costs $9 to $16 per square foot (wholesale), with $12 – $13 the median. Commodity wholesale is often priced at $6-$8 per square foot wholesale.
In difficult economic times, the high-end/luxury end-use segment generally remains dampened by fluctuations in the economy. That turns out to be true again this time. "The top is better insulated, and we've seen that insulation in affluent buyers," said Herb Upton, vice president of product development-residential at Shaw Industries.
Don Karlin, Nourison's broadloom sales director, added that while the upward pressure on costs is still there, "it seems that consumers are [increases] and buy what she wants. The impending economic downturn is due to the Fed raising interest rates, not because people have decided to stop buying things. In addition, most people work with a fixed income. If someone wants a floor, they will most likely buy it."
Inflationary pressure
Annual inflation for the US was 8.3% for the 12 months ended August 2022, after previously rising 8.5%, according to data from the US Department of Labor released Sept. 13. In fact, inflation has been above 5% for 12 consecutive months, peaking in June 2022 at just over 9%. A year ago, inflation in the US was 5.25%; in August 2020 it was 1.3%.
It is understandable that factory executives are concerned that spiraling inflation will seriously affect the psyche of American consumers.
Jamie Welborn, vice president of product management, soft surface, Mohawk, echoed a familiar refrain when he said he was "very concerned" about the state of inflation. "If consumers have to pay more for necessities like food and gas, it definitely impacts remodeling," he explains. Other executives agreed. "It's a natural concern as the cost of living rises, consumers will continue to scrutinize their discretionary spending more than ever," said Mike Sanderson, vice president of marketing for Engineered Floors. "Flooring may not be considered a priority compared to, say, a family vacation."
Chet Graham, president of Marquis Industries/Gulistan, acknowledged that while inflation will continue to reduce everyone's discretionary spending, there is a glimmer of good news on the horizon. "We're starting to see a leveling off in commodities, which should slow this market impact," Graham explains. "As home startups slow, consumers will make decisions to stay in their homes longer and start home improvement projects. Carpet remains one of the cheapest upgrades."
Shaw's Upton noted that while inflation has contributed to a slowdown in retail traffic, he believes in the entrepreneurial spirit of independent retailers. "I like the tenacity of specialty stores. Their ability to be creative will win the day."
Striking introductions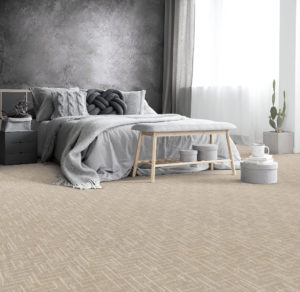 The Dixie Group's Masland Pedigree is new for 2022. "It's a pattern with a beautiful linen look," Nuckols said. "For a cartridge, it has a heavy face weight, so it feels really nice, comfortable. And it's made with our EnVisionSD Pet Solutions nylon, so it delivers the best in durability and stain performance."
Fabrica Ithaca is a new, eye-catching Colorpoint pattern. Ithaca is made of EnVision Nylon and presents an impressive abstract pattern, Fabrica color line and visual interest.
Engineered Floors' most recent release, Manuscript, features a high-contrast geometric pattern that utilizes the company's PureColor Solution-Dyed PET twistX technology. This color-enhanced MLCL (Multi-Level Cut Loop) pattern uses the latest tufting technology to create a visual suitable for bedrooms, living rooms and entertainment areas.
Mohawk's Modern Story I, II and III is a good/better/best collection of EverStrand polyester with a clean and sleek construction with a great color line. One of the many new styles for Karastan is Artful Radiance, which is made from Kashmere nylon and offers an interesting texture made in part with ColorMax technology.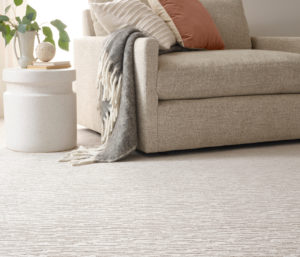 Pet Perfect and Pet Perfect+ carpets feature high-quality Shaw's Anso fibers (in nylon and PET), in addition to stain/dirt protection and bleach/fade resistance. Pet Perfect+ carpets from A/T and Shaw Floors feature LifeGuard spill-resistant technology.
Stanton's Tattersall II by Crescent has added five new colors as part of its fall launch. Tattersall II from Crescent, a division of Stanton, is made from 100% New Zealand wool and offers striking color combinations in a traditional fitted check design. Tattersall II can be used in a wall-to-wall installation, custom rug, stair runner or hallway runner.