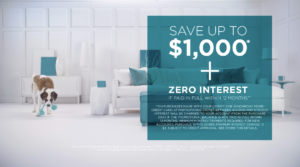 Carpet One earns industry awards for new video campaign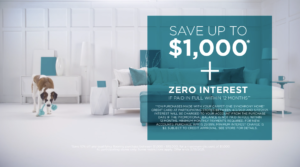 Manchester, NH— Carpet One Floor & Home's in-house creative team teamed up with Boston-based advertising agency CommCreative recently to win a Platinum Hermes Award for its "Don't Stress The Mess, Paws & Claws, Waterproof and Comfy Cozy" video campaign. Additionally, the team won a Merit Award at the Ad Club's Hatch Awards. The campaign was run to advertise on various platforms from electronic media, social media and digital.
The award-winning campaign includes Carpet One Floor & Home's 'spokesdog', Cooper, a St. Bernard who spends the majority of his days lounging across floors, giving him a unique vantage point and expertise when it comes to what it is. ultimate. hard and soft surface options for the family home, the company said.
"I am so proud of our in-house creative team and the quality work they consistently produce for our members," said John Gilbert, president of Carpet One Floor and Home. "It's especially rewarding for them and our third-party agency CommCreative to be recognized for their talents with accolades like this."
The Hermes Creative Award is said to be one of the oldest and largest creative competitions in the world. The winners range in size from individuals to media conglomerates and Fortune 500 companies. Each year, judges evaluate the creative industry's best publications, branding materials, websites, videos, and advertising, marketing and communications programs. The competition is administered by the Association of Marketing and Communication Professionals.
The Hatch Awards are presented by The Ad Club, the trade association for the New England marketing and communications industry.
The campaign can be viewed here†