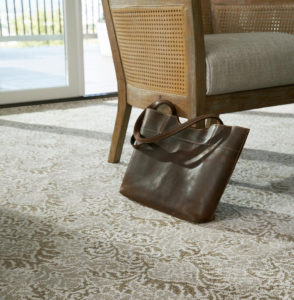 Carpet: Not your grandmother's fiber any longer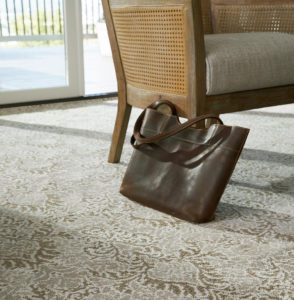 With open floor plans and spacious homes, today's consumer is likely to choose hard surface as their primary floor, while viewing carpet or rugs by room. With this in mind, factories develop high-quality, differentiated carpet styles that complement the hard surfaces that dominate the home.
Fortunately for factories, that effort has become easier with advances in fiber and extrusion technology that have yielded striking looks that appeal to even the most discerning consumers. "If you haven't been in the carpet market in the last five years, you'd be amazed at how much the aesthetics have improved," said Jamie Welborn, vice president of product management, soft surface, Mohawk. "The technology for all of us to create cleaner finishes, better color definitions and pop and pattern definitions is here."
Increasingly, the fiber at the center of this makeover is polyester — in most cases, solution-dyed PET. As Brad Christensen, director of category management for residential soft surfaces for Shaw Floors, explained: "While high-performance nylon is still widely desired – and preferred in commercial environments – preference for high-performance PET continues to grow in retail and construction/multi – family thanks to technological innovations in fiber production and the increased market demand for pet-friendly, stain and fade resistant carpets."
By some estimates, polyester now accounts for about 70% of the residential fiber market, with nylon in the low to mid-20s. A decade earlier, nylon owned more than 50% of the housing stock.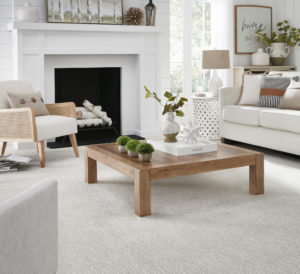 Despite the turnaround, not every factory has abandoned fiber. An example of this is The Dixie Group, which has doubled its commitment to nylon. "While the rest of the industry seems to have migrated to polyester, our fiber of choice is nylon," said TM Nuckols, president of TDG's residential division. FCNews† "In our EnVision Nylon product line, we blend different nylon fibers with different gloss levels, color options and softness levels to create the most beautiful carpets in the industry."
In the field of beautiful carpets, Nourison has long been hailed as a luxury carpet and rug manufacturer, leaning towards natural fibers such as wool, which is an outlier for some customers, albeit one that stands out. "The biggest objection we get from a floor dealer to selling wool is, 'No one ever asks for wool,'" said Don Karlin, director of wall-to-wall carpeting at Nourison. "And my answer is, 'No one has ever asked you for polyester. You have to present to your customers what best suits their needs.' Focus less on the 'ingredients' of the carpet and more on what the carpet will add to her home."
Nourison has added polyester in recent years as a silky accent or soft background in some of his face-to-face Wiltons.
Invista exit impacts nylon
In arguably the biggest fiber development this year, though not unexpected, Invista informed several of its carpet fiber customers of its plans to discontinue production of nylon 6,6 carpet fibers by July 2022.
Invista's manufacturing facility in Camden, SC, will continue to produce nylon 6,6 polymer for use in the engineering plastics market, but will stop converting that polymer into carpet yarn.
Invista's carpet yarn customers have included Bentley Mills, TDG and Mannington for both Phenix's commercial and residential businesses. Invista's move is expected to shift the industry towards using more Nylon 6 and less Nylon 6,6.
In response, Phenix, which traditionally focused on mass-dyed polyester, has taken a big step in nylon, most notably by extruding cationically dyeable nylon – a more expensive fiber, but one notable for reducing acid-based stains. Cationic nylon is used in Phenix' FloorEver Pet Plus, the plant's 2022 launch. "The reception at Surfaces and beyond has exceeded our expectations," said Matt Johnson, senior director of residential carpets. "You don't want nylon to disappear from the market; it's a better product [than polyester] from a sustainability point of view."
In light of Invista's departure, TDG is joining alternative nylon suppliers, Nuckols said. "As we make this conversion, it is important that we maintain our position in the high-end housing market. We must continue to create the beautiful and differentiated looks that the market expects from TDG."
To make things more challenging for nylon suppliers, BASF, which makes polyamide 6 and polyamide 6,6 polymers, implemented four price hikes as early as 2022, reducing home sales.
New initiatives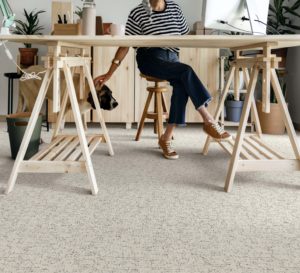 Mohawk and Shaw are not affected like others by the departure of Invista, as they both produce their own carpet yarns and have invested heavily to maintain their leadership position.
Mohawk has had success with its carpet styles made from triexta, also known by PTT, which is used in SmartStrand. Building on that success, Mohawk has since introduced several styles of wall-to-wall carpet, made from a blend of two fibers: Triexta blended with PET polyester. Mixing two fiber types together creates color variations that are not available in any other single fiber type.
Shaw, meanwhile, recently invested $400 million in its Aiken, SC operations to serve customers regardless of their fiber preference. Pet Perfect and Pet Perfect+ carpets feature high-quality Shaw's Anso fibers (in both Nylon and PET), in addition to stain/dirt protection and bleach/fade resistance. Pet Perfect+ carpets from both Anderson Tuftex and Shaw Floors come with the added protection of LifeGuard spill-resistant technology.
The Dixie Group has made capital investments in its tufting technology, including Colorpoint, and its new TECHnique machines, which the company says can turn essentially any idea you can visualize into wall-to-wall carpeting.
Engineered Floors' state-of-the-art technology, meanwhile, produces a synthetic fiber that is inherently stain and fade resistant. "Pure color [our proprietary fiber] continues to set the bar for what manufactured fibers can be," said Mike Sanderson, vice president of marketing. "Consumers demand a product that is easy to live with while meeting their needs for style and comfort." In 2022, EF will add five new styles to its popular DW Select line.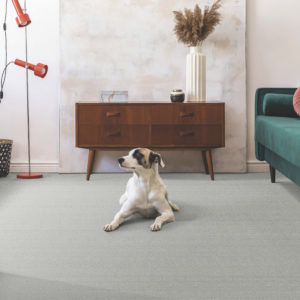 Notable TDGs for 2022 include Masland Pedigree, a striking linen pattern made with EnVisionSD Pet Solutions nylon; 1866 by Masland and Décor by Fabrica, new collections within the new decorative segment.
Tarkett's latest Lifetime Style collection offers a variety of products with patterns, textures and loops that reflect the latest color and design trends. Papyrus offers a textured surface of 100% solution-dyed Primus PET fiber that mirrors the appearance of a natural chenille fabric, with eight tonal colorways. Tribaleigh, made from 100% solution-dyed Primus PET fibre, is a handwoven flat weave with a unique texture and design.
Stanton is also making some noise in 2022 with the introduction of its patented yarn system LION (luxury indoor outdoor nylon). LION uses a solution-dyed, UV stabilized nylon for improved color retention and stain and weather resistance for both indoor and outdoor applications. San Martino, for example, is the latest introduction to LION fiber, featuring a cut and loop construction that creates dimensional color.