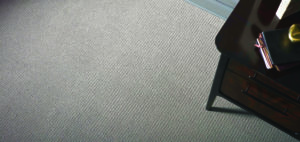 Carpet: High-end surge ignites sales
RResidential carpet sales grew by a staggering 17.2% in 2021, according to FCNews estimates, while the average sales price increased by 7% last year and by 12.7% in the first quarter of 2022. Admittedly, price increases had something to do with the increase in ASP; however, factory directors say that consumer demand for high-quality carpet is also driving soft surfaces.
"Consumers crave premium style and design in a quality product that they can invest in and live on for years to come," said Natalie Cady, director of premium brands' residential channel strategy for Shaw Floors. "As we all know, the pandemic has put more emphasis on sustainability and cleanability for homeowners. People spent travel and recreation budgets on home improvement projects, which gave them the opportunity to invest in more expensive goods, especially carpet that provided much-needed comfort and sound-absorbing benefits. More affluent households will continue to fuel the high-end wave of carpet."
Executives identified a few drivers for the high-end surge:
Carpet is purchased per room. The days when wall-to-wall carpeting graced the average American home are long gone, largely replaced by hard surfaces. Today consumers buy carpet, albeit selectively, say a bedroom or perhaps a home office. "Now that many people are working from home, the den and home office are moving to carpet to create a quieter environment," said TM Nuckols, president of the residential division of The Dixie Group. "For these room-by-room purchases, consumers are looking for something that really complements the hard floors that run through the main living areas of the home. High quality carpet fits the bill."
Buoyed by advances in manufacturing technology, today's high-end carpet probably reflects more progressive trends than the dull beige of yesteryear. "Over the past three years, we've had a renaissance in styling where we're definitely seeing more patterns, more loops and bolder colors," said Jason Randolph, senior vice president of sales for Karastan, Mohawk's luxury division. "Now that carpet is not a whole house purchase, the consumer can really express themselves."
Tim Hiner, senior director of product development and product management for Tarkett, agreed, adding: "There is more interest in making the carpet a focal point in a room. Carpet is no longer a background to show other furniture. As a focal point, high-quality patterns and textures enhance the visual appeal of the space."
Hard surface growth. It may seem counterintuitive to suggest that the growth of hard surfaces has fueled the high-end push of carpet, but that's the reality for people who work from home and often find hard surfaces too noisy. "Rather than settling for a standard rug size, the consumer can have the exact size needed to perfectly fit the room or area they are covering," explains Nuckols of TDG. "And stair runners made of tufted or woven patterns are great and have become great statement pieces in the home. All of these activities play a key role in the high-end carpet wave."
There's also the cost factor, as high-quality carpet is generally still cheaper than most hard surfaces. As Matt Johnson, senior director of residential carpet, Phenix, explained, "When you consider the total cost, material and installation, carpet is still a relative value to hard surfaces."
Depending on the type of hard surface selected, it is not uncommon for an installed hard surface to cost $10 per square foot or more. For that price, consumers can get a high-quality carpet that looks great and also matches the rest of the hard surfaces throughout the home. "People are looking for style and design in the high-end end of the soft-surface market," said Don Karlin, director of wall-to-wall carpeting at Nourison. "Carpet today, especially in the higher end, has many, many patterns, styles and colors to choose from, and the high-end interior designer can be very creative."
Home value is rising. Nationally, average home prices have risen 29% since the COVID-19 pandemic began in 2020, according to Zillow. For people who stayed put, that appreciation encouraged many to prioritize home improvements. "Every time you have a high valuation for your home, it reinforces the decision that the home is a great investment and that you want better goods in the house," said Randolph of Karastan. "Plus, availability and high house prices keep people where they are, and when they're going to do that, you want to put better goods in there. The remodeling customer is really where they are."
RSA exerts influence. TDG's Nuckols suggested that with a limited amount of carpet going into the home, the only way for RSAs to increase revenue and commission income on carpet is to push the higher-end, higher-end products. And since high-quality carpet fits most flooring budgets, RSAs jump at the opportunity to trade-in the consumer. There's also a belief that the more high-value goods RSAs can sell, the healthier the industry will be, observers said.
New elevator market offer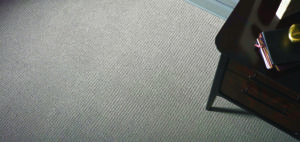 Anderson Tuftex's offerings for 2022 include Lyric, a premium Pet Perfect+ carpet with LifeGuard spill-resistant technology, and Speak, an A/T Pet Perfect style with a premium pattern design. "They're great upsells for RSAs to promote in retail," Cady said. "Our full A/T portfolio of premium soft surface offerings provides industry-leading style and design for the more discerning consumer."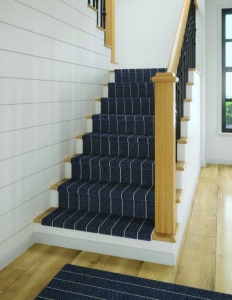 The Dixie Group has many high-quality products in all three soft-surface divisions and said it will continue to design innovative styles through its EnVision nylon platform on the latest tufting technology, including Colorpoint and its TECHnique machines. "With our new programs 1866 by Masland and Décor by Fabrica, we are renewing and expanding our range of decorative segments from 2022," says Nuckols. "All of these initiatives will fuel the growing high-end carpet segment."
Dream Weaver, Engineered Floors' residential brand, continues to tout its DW Select line, which Mike Sanderson, vice president of marketing, called "the gold standard of what high-end, design-focused carpet can be." In 2022, the company introduced five new DW Select styles, adding more depth to the well-stocked line. "The availability of design, textures and colors means there is a DW Select solution for every need," says Sanderson.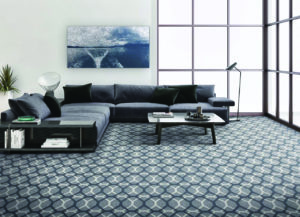 Karastan has its usual range of high-end offerings, including Majestic Vision, Whitmere and Artistic, all of which are part of the brand's efforts to revamp its styling. For example, Majestic Vision is made from Kashmere nylon, which combines a luxurious feel, craftsmanship, trendsetting style and durability. Hillsworth, a wool offering, includes a navy blue color.
The big push at Phenix continues to be the FloorEver Pet Plus collection, specifically Mykonos, a cationic nylon proven to be stain resistant. Launched on Surfaces 2022, Mykonos has been shipping to retailers since June. "It's unique and beautiful," Johnson said.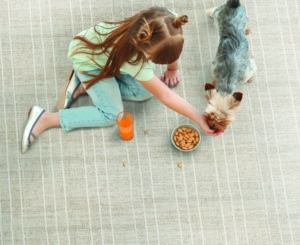 Stanton Carpet's luxury Rosecore brand consists of two premium products, including San Martino, featuring the factory's patented LION (luxury indoor outdoor nylon) yarn system, and Chain Stitch, a handwoven, 100% premium wool product.
Tarkett Home reported strong year-over-year growth with Captivation and Verona. Captivation is a higher weight, finely textured cut and loop with a bolder design, while Verona offers a more subtle design.