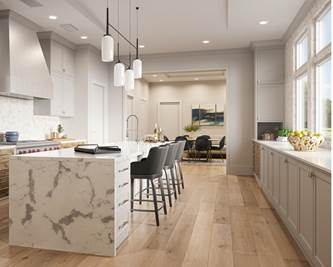 Carlisle adds to Tranquil collection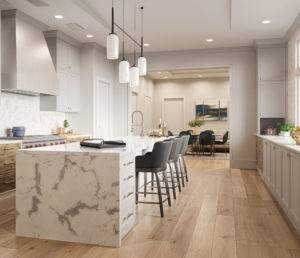 Stoddard, NH—Carlisle Wide Plank Floors, a leader in handcrafted wide plank hardwood flooring for residential and commercial spaces, has added two new floors to the Tranquil collection. The collection combines the organic character of white oak with a subtle wash of layered colors in warm, modern tones and a smooth, super-mat finish.
The latest additions to the Tranquil collection are:
Elysian
White tones cut over nutty brown woods result in a mix of cooler tones.
refuge
A subtly creamy glaze contrasts with the warm cocoa undertones of the wood to create a mix of light and medium neutrals.
According to the company, both Elysian and Refuge were inspired by two of Carlisle's most popular floors, Winter Light and Sincerity, in response to customer requests for modifications to existing collection floors.
Elysian was created to offer a smooth-textured version of the Winter Light floor, which has an extremely low gloss and natural white finish desired by many designers and consumers, the company said.
Likewise, Carlisle said it developed Refuge to accommodate a number of customers' requests for a floor with Sincerity's very light creamy tone and varied pigmentation in a plain sawn option.
"In many cases, customers are attracted to our collection floors, but are looking for minor changes in finish or texture to achieve a specific look and feel," said Chris Sy, president. "Because our heritage is rooted in custom flooring, it is very easy for us to adapt our existing products to deliver exactly what the customer wants. This ability to make very minor adjustments to our floors sets Carlisle apart from many flooring brands where, if a particular product is not suitable for the design, the customer has no choice but to move on to a brand new product."
Launched in 2020, the Tranquil collection has been developed to provide a layered finish, smooth floors that mimic a naturally aged material without the use of brushing, the company said.
"From our showroom in San Francisco to our showroom in New York City, we realized that our customers were asking for the same customizations on the same products, a testament to the fact that timeless design is not limited by geographic boundaries," said Sy. "At Carlisle, we are committed to listening to our customers and developing our products to meet their design needs. We are delighted to be able to take their most popular requests from around the country and make them available as part of our regular collection offering."
Elysian and Refuge, along with the rest of the Tranquil collection, are offered in ¾ inch plank thickness and in lengths from 2 to 12 feet, with a choice of solid or engineered construction. Each 8-inch-wide signature plank is sustainably sourced and carefully hand-selected by Carlisle artisans, according to the company. The collection can be ordered through Carlisle showrooms and design consultants.