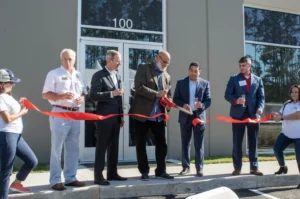 Cali opens new distribution center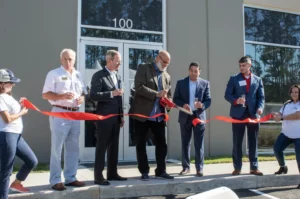 Summerville, SC—Cali has officially opened its first custom-built distribution center here. The new center is the first of four planned by the omni-channel flooring and decking company and launched with a grand opening ceremony of ribbon cutting on Thursday, November 3, 2022. Guests were treated to tours of the new facility and speeches from councilors and port officials.
"We are excited to launch this distribution center along with a new relationship with the Summerville community," said Doug Jackson, Cali president. "Cali has found success by prioritizing the well-being of not only our customers and partners, but so do our employees. We look forward to supporting our new team in South Carolina so we can all grow and achieve great things together."
The Summerville center now serves Cali customers along the East Coast, enabling faster deliveries and more reliable service of quality flooring, composite decking and other home design collections.
"I'm excited about what this DC will add to the customer experience," said Eugene Garcia, Cali COO. "The 250,000 square foot facility supports a multi-shift operation with product sampling, customer service and a logistics team. Our goal is to provide a world-class service experience."
When fully staffed, the center will employ approximately 50 new Cali team members, mostly recruited from the local community. The company's acclaimed employee culture will extend to the Summerville team, along with competitive salaries and benefits.