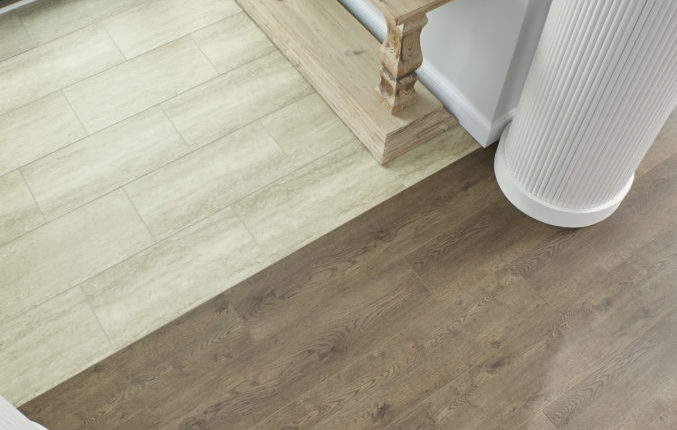 Bruce introduces LifeSeal Reserve – Floor Covering News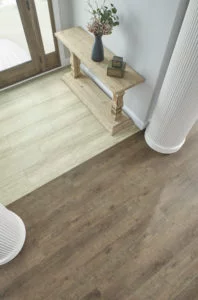 Mountville, Pa.—Bruce, a brand of AHF Products, introduced LifeSeal Reserve, a new hard-core flooring that provides waterproof protection to withstand the busiest residential and bright commercial spaces without sacrificing comfort or style, the company said. In addition, the floor features the company's new Cleantivity antimicrobial coating technology, which is said to inhibit the growth of bacteria, mold and mildew.
The detail in natural hardwoods, stone and marble has been reinvented in Bruce LifeSeal Reserve, the company said. The carefully curated, resilient flooring collection features a range of designs in muted textures and in wide widths, Bruce said. It features trending white oak visuals, reflective soft colors and natural tones to create comfortable interior spaces, and wider planks and tiles are offered in a trendy matte, low-gloss finish, the company added. According to Bruce, the aesthetic fits into the Japandi design trend of combining Japanese design aesthetics with Scandinavian pale minimalism.
"As one of the largest manufacturers of hardwood products, we have the advantage of knowing very well what consumers, retailers and designers are looking for in hardwood," said Sara Babinski, senior design manager. "These hardwood trends have a direct correlation to what we are developing for our rigid core collections. For some time now, the biophilia trend – bringing the outdoors inside as a close connection to nature in the home – has been trending and has become even more important in this day and age when most of us spend a lot more time indoors. The biggest trend in floors is of course the wood look itself."
According to Babinski, marble and stone are also trending as both timeless classics and innovative looks in contemporary and traditional design. "It has a natural look and goes well with wood looks," she said. "What's unique about this collection is the ability to mix wood and stone visuals and create seamless transitions in one installation."
LifeSeal Reserve coating with Cleantivity antimicrobial technology is infused with an integrated technology to not only resist scratches and stains, but also be easy to clean, Bruce said. With the LifeSeal Reserve, the floors perform well in high and low temperatures from zero to 200 degrees Fahrenheit, the company said.