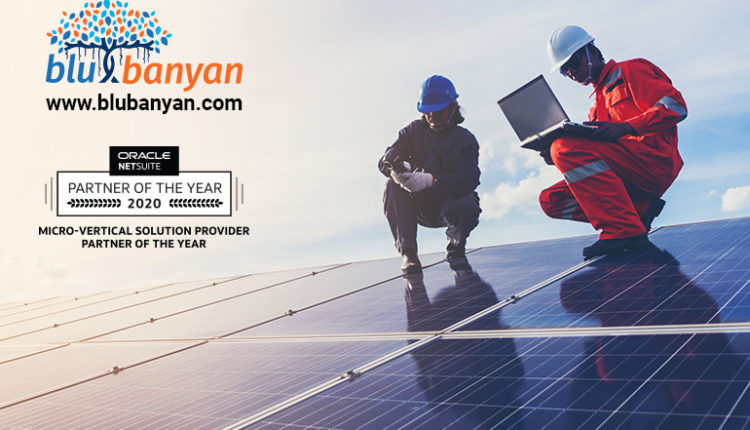 Blu Banyan builds software designed specifically for solar installers on the NetSuite platform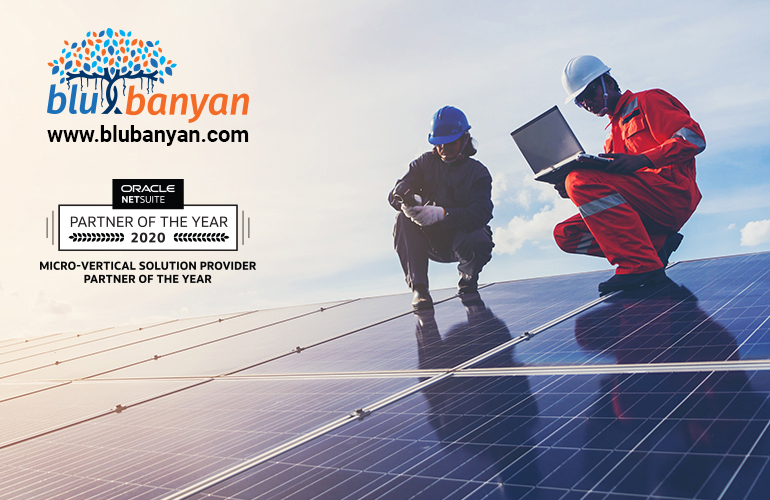 By John Goode, Senior Director, Channel Marketing, Oracle NetSuite
As the cost of solar generating equipment has fallen and public awareness of the benefits of clean energy has increased in recent years, the demand for solar power installations has skyrocketed. On an annual basis, the sector grew by 43% in 2020, during which time more than 19 gigawatts of direct current (GWdc) of solar power was installed, according to the Solar Energy Industries Association.
With over ten years of experience at the intersection of solar energy, business processes and software, Blu Banyan CEO Jan Rippingale and her startup team saw a significant market opportunity to develop a solution optimized for solar installers of all sizes. As a NetSuite Solution Provider, NetSuite was the leading platform candidate for Blu Banyan, for all the reasons the company committed to it: a single database that supports a robust, cloud-based ERP suite with accounting at its core, and mature development tools. Before undertaking the extensive development efforts, however, Blu Banyan considered competing options, including Salesforce.com.
"Having everything connected makes a huge difference," says Rippingale. "Due to its presence in the CRM market, we evaluated Salesforce, but we quickly realized that we should have used Salesforce CRM plus FinancialForce; they are two different databases, with all the associated headaches."
Connecting the dots between those two databases would have been a "miserable experience" for a software developer, Rippingale said. By partnering with NetSuite, Blu Banyan was able to extend the ERP platform and especially the accounting and project management functionality to meet the specific needs of solar installers, such as when minor adjustments in system size (i.e. a customer who orders extra wattage) directly affect an installer's accounting processes.
"Decades of work have gone into building the unified foundation of NetSuite and getting it right; we couldn't reinvent that, of course," Rippingale said. "We chose NetSuite for its strengths and then spent our time focusing on our specific added value and building those capabilities for solar installations."
Blu Banyan's award-winning solution, SolarSuccess, helps residential, commercial and utility solar installers manage their business and can significantly reduce their soft costs. These soft costs are the non-hardware costs associated with solar installations, including licensing, financing, and installation, as well as any costs solar companies incur to acquire new customers, pay suppliers, train staff, and cover their profits. . Soft costs include as much as 65% of the total costs of a new solar system, according to the Department of Energy (DOE), and are the largest part of any installation.
The power of partnership
As one of the first companies to use NetSuite's SuiteScript 2.0 to make customizations, Blu Banyan received personal support in developing SolarSuccess. By leveraging the contacts made by the company's employees at SuiteWorld and other events, Blu Banyan gained insights and information directly from NetSuite developers and product managers during development.
"We repeated the process until the software kept getting better," says Rippingale.
Blu Banyan also benefited from NetSuite's sales and marketing efforts, including calling, scripting and advocating for the benefits of SolarSuccess through NetSuite's channel development reps (CDRs), which partners use to bring in potential customers.
"Our fourth customer on SolarSuccess was 100% from the CDR program," said Rippingale.
A solution with a specific focus
Offered as a SuiteApp, SolarSuccess offers enhanced sales pipeline management, CRM, accounting, procurement, installation project management (including cost per project and profitability), inventory management, customer billing, universal funder connectivity, team collaboration, and business intelligence.
SolarSuccess integrates directly with NetSuite to give solar installers an application optimized specifically for their needs. Together they ensure:
A unified view of data for all business activities
Integrated accounting, project management, CRM/sales and design bid features
Real-time insight into project status, costs and profitability
Real-time stock availability, pricing and purchasing
Project Milestones Trigger Accounting Events
Project BOM (BOM) synchronization on sales orders
Project-specific document management with revisions
Solar-specific, custom key performance indicators (KPIs), dashboards and alerts
"When you put a group of point applications together, no matter how good each of those programs is individually, you really need them to talk to each other," said Clive Smith, Blu Banyan's chief business development officer. "The only way to do that is with an integrated or unified application suite on a single database."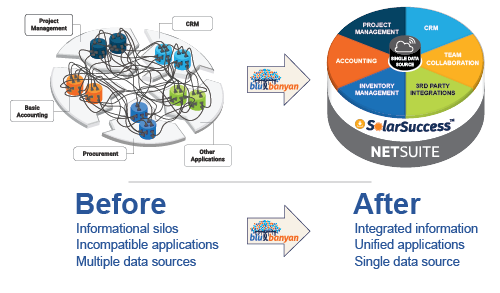 NetSuite-SolarSuccess in action
Titan solar energy, a rooftop solar contractor that handles all aspects of solar module installation, was one of the early beneficiaries of the NetSuite-Blu Banyan partnership. Since its inception in 2013, it has experienced steady growth. It installed 153.5 megawatts (MW) of capacity in its last fiscal year, making it the third largest residential installer in the US with a market share of approximately 1% of the total market. Yet his own project management system was unable to keep pace with his growth. In 2019, the management team realized that the company could no longer run on isolated, disparate technology systems.
"We had a project management system, a file storage system, an accounting system, and more," said Aaron Casillas, Titan's director of technology and infrastructure. "Sharing data between these systems was difficult, and in most cases our only way to 'fill the gaps' was to add labor. We wanted to get everything on one system."
After considering the options, Titan found what it was looking for in SolarSuccess. In partnership with Blu Banyan, Titan went live on NetSuite-SolarSuccess in February 2020. As part of the implementation, Blu Banyan also installed bluChat, NetSuite's native communication and team collaboration tool.
Titan works with a nationwide network of sales organizations and will take over the installation as soon as the deal is finalized. It manages the design, negotiates with utilities, obtains the necessary permits and provides the loans, leases or other financing necessary to bring the project to completion. Titan's new system simplified the commission payout process and reduced the amount of labor required to manage these transactions. "With NetSuite, we have significantly reduced the amount of labor required to pay out our partners," Casillas says, "and made that process very consistent across the board."
Since implementing NetSuite and SolarSuccess, Titan has reduced the amount of time it takes to complete project installations, added an "installation portal" that homeowners can use to track the progress of their installations, and gained a better understanding of operational data. . The company has grown significantly since its implementation and is on track to expand even further in the coming years.
Moving the needle
For NetSuite partners looking to build their own microverticals, Rippingale said product-market fit is vital.
"Take the time to learn both industry-wide and customer-specific needs," she said.
Knowing the language and trajectory of your target industry is also important, said Rippingale, who leads a DO/SunSpec Orange Button Workgroup which focuses on data standardization in the solar industry and establishing a distributed energy taxonomy for the software development community. One of the first practical results of the Orange Button work is a crowd-sourced, public Authority with Jurisdiction (AHJ) register. Initiated by Blu Banyan in conjunction with the SunSpec Alliance, the registry addresses one of the thorniest and most costly operational challenges facing solar installers – identifying which of the nation's 36,177 AHJs have inspection and approval authority (including construction, electrical and fire codes) on all new solar installation.
Finally, Rippingale said that knowing what "moves the needle" has helped Blu Banyan maximize its partnership with NetSuite while gaining a competitive edge in its microvertical goal. Thoughtful discussions with early solar customers about the cost of multiple site visits due to inclement weather led to the addition of a basic weather portlet to the project manager's dashboard. .
"We've spent thousands of hours developing SolarSuccess," she said. "In four hours, we built a portlet that impresses and benefits our customers. It took us a few years to identify and call those needle movers, but the results speak for themselves."
Sponsored Content by Blu Banyan