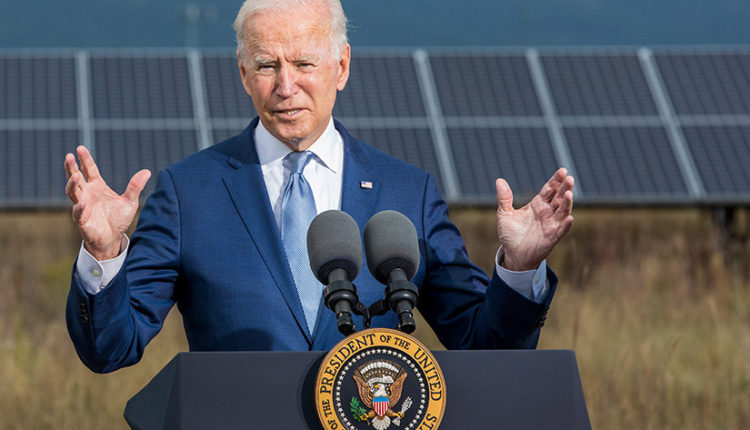 Biden emphasizes Build Back Better's clean energy incentives in SOTU
In President Biden's State of the Union address on March 1, 2022, he encouraged Congress to send the Build Back Better Act to his desk and emphasized the clean energy incentives within the bill.
"Let's provide investments and tax credits to weatherize your homes and businesses to be energy efficient and you get a tax credit; double America's clean energy production in solar, wind, and so much more; lower the price of electric vehicles, saving you another $80 a month because you'll never have to pay at the gas pump again," Biden said in his remarks†
The Build Back Better Act is stalled in the Senate due to opposition from moderate Senators Joe Manchin (D-WV) and Kyrsten Sinema (D-AZ). The solar-related provisions in the bill include extended residential solar tax incentives and refundability options, new incentive options for larger projects and new domestic solar energy manufacturing tax credits.
SEIA applauded Biden's emphasis on clean energy and passing the Build Back Better Act in the SOTU speech.
"Threats from hostile countries, particularly in light of Russia's unprovoked invasion of Ukraine, underscore the urgency of our transition to a clean energy economy. Investing in American manufacturing supply chains and building demand for clean energy sources such as solar and storage is critical. And because solar is the least expensive energy source in much of the country, American families will save money," said Abigail Ross Hopper, president and CEO of SEIA, in a statement.
"With policies that support American clean energy manufacturing and the expansion of solar power and energy storage, we can become less dependent on energy and materials from countries that do not share our values ​​or our interests. A robust solar manufacturing sector and a strong and diverse solar industry will put more than a million Americans to work, generate hundreds of billions of dollars of economic growth and bolster environmental justice and national and climate security," she continued. "US demand for clean energy far outpaces domestic manufacturing capacity. That has to be fixed. Our own domestic supply chain must be capable of supporting a dominant and secure clean energy sector. Federal policy is critical to bridge this gap. Failure to enact comprehensive clean energy and climate policy is no longer an option."
News item from SEIA