Best practices for handling, unpacking and storing large-format solar modules
By Chengjiang Fu, Head of Product and Solutions, LONgi Solar North America
One of the biggest trends in solar panels is the arrival of large format modules. The advantages of these mega modules are well known, such as higher power ratings, reduced amount of balance of system (BOS) and electrical BOS components, lower installation costs and greater reliability. The combination of lower capital expenditures, lower leveled electricity costs and higher net present value has excited developers, EPCs and asset owners. But even with these advantages, large modules present some challenges.
One area that has not received as much attention is the shipping and handling of large format modules as they make their way from the factories to the solar fields. Granted, shipping, unpacking, handling and storing modules aren't the sexiest topics – most of the industry's focus is on the installation process and related best practices – but for EPC site teams and other logistics partners, good handling is essential. Some of the do's and don'ts are common sense while others are not so obvious. With the advent of the high-performance, high-wattage modules, the time to address the best practices has become even more urgent – as unnecessarily damaging hundreds of these modules will add even more costs.
From factory to project location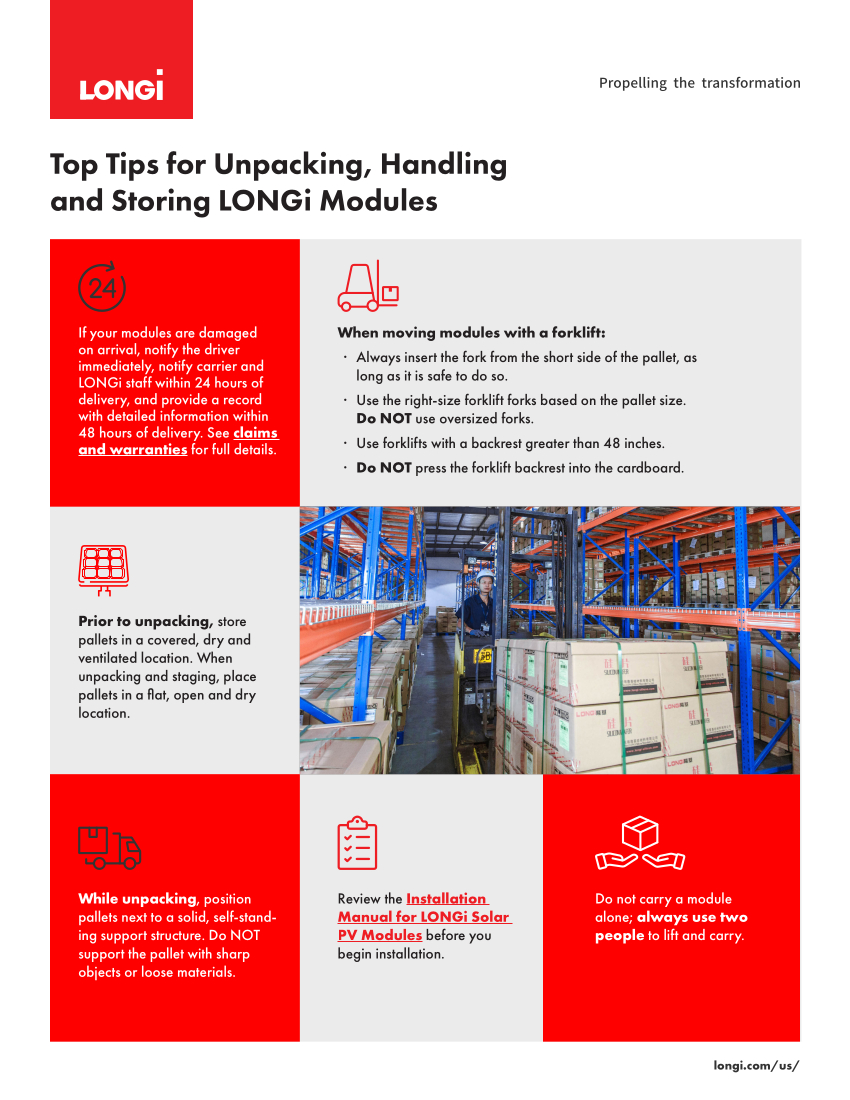 Most solar panels travel thousands of miles from the manufacturing facility to the installation project site. Along the way, they are packed, palletized, trucked, shipped on freighters and transported again (and again). Module manufacturers have established practical methods for cratering and shipping large format modules to reduce the risk of damage en route.
For example, horizontal or horizontal packaging of large format M10 modules (182 mm cells) has been shown to significantly reduce the risk of them tipping over during transport, which can lead to cell microcracks or other damage. In addition, this smart packaging configuration conforms to the standard dimensions of 40-ft shipping containers, maximizing available space.
Supply chain disruptions in recent years have increased pressure on the logistics industry, including a shortage of more than 80,000 experienced truck drivers and forklift drivers, the need to optimize packaging materials and an increase in problems with safely delivering modules to project sites. There have even been instances at large project sites where hundreds of modules have been damaged in some shipments, with many issues going undetected until ready for installation.
Modules are loaded and unloaded many times along the way before finally being unloaded, unpacked and prepared for installation. For the most part, millions of modules in various stages of transit reach their final destination in good condition. But after all those miles, mishandling towards the end of the journey can sometimes lead to damaged or even broken modules.
Taking modules seriously
Module manufacturers must work closely with both freight forwarders and their customers to reduce the risks of module misuse. Pre-installation training should be encouraged, as should the sharing of best practices to help ensure the safe unpacking, inspection, handling and installation of modules. Manufacturers must make key documents available to relevant stakeholders to facilitate this, such as: module installation manuals and unpacking, handling and storage guides.
Inspect on arrival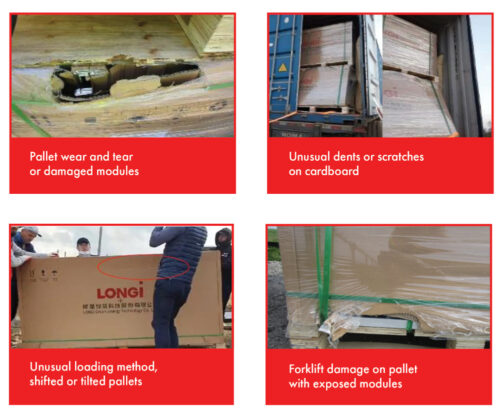 When the modules arrive, it is imperative that they are identified by barcode scan or other method and that the packaging is inspected for visible damage. Common problems can include:
Unusual loading method, shifted or tilted pallets
Damage to forklift on pallet with exposed modules
Pallet wear or damaged modules
Unusual dents or scratches on the cardboard
If it is discovered that the modules are damaged, best practices recommend to notify the driver immediately, as well as the carrier and module company personnel within 24 hours of delivery. A record with detailed information must be provided within 48 hours of delivery. Doing this in a quick and thorough way will likely avoid warranty headaches.
Do not put a forklift in it
It's surprising how much damage can be done when using forklifts to move module pallets. And the larger the modules, the greater the potential risk. But with experienced operators and adherence to best practices, damage caused by forklifts can be prevented.
For example, the operators should use the correct forklift forks based on the pallet size and never use oversized forks. The operator should always insert the fork from the short side of the pallet as long as it is safe to do so. Forklift backrest problems are the most common cause of module damage. It is recommended to use a backrest greater than or equal to 48 inches and never press the back of the lift truck into the packing carton.
Save and stage
Proper storage and arrangement of the pallets on site may seem like an obvious way to minimize module damage, but it is sometimes overlooked. It is best to place the pallets in a flat, open, and dry location when unpacking, and place the pallets next to a solid, self-contained support structure such as a tracker post or wall — the higher and sturdier the better — where the modules can be bent as soon as they are removed from the packaging. And when it's time to move the solar modules to be installed, always have two people lift and carry each module. This safety recommendation is necessary because the heavier, large-format modules—weighing 70 to 80 lbs—are more common in utility-scale project sites.
Keep in mind that the larger and heavier the module is, the more fatigue will be felt by the workers wearing them – be sure to schedule plenty of rest and hydration breaks to ensure safe handling.
---
Chengjiang Fu is lead product and solutions for LONGi Solar North America.
---