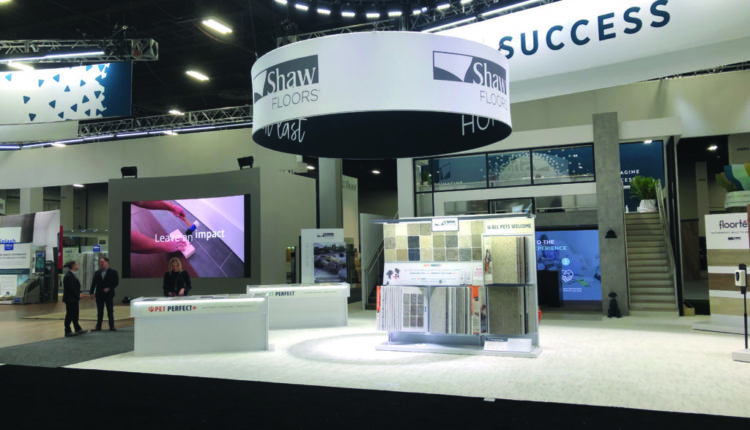 Best of Surfaces honor excellence in key metrics
Dogwood Densified Engineered Flooring is a new innovation that uses a patent-pending process to significantly increase the density of the face veneer by using heat and pressure. It has a dent- and scratch-resistant surface. What takes nature millions of years to do AHF Products can do in a matter of minutes, transforming real hardwood into even harder wood. This process opens up the possibility for the use of non-traditional wood species, such as sycamore or walnut.
The proof is in the pudding, according to AHF, which cited the product's demonstrated performance in four key tests:
• Janka scale (hardness)
• 2-inch steel ball drop indentation test (hardness)
• Taber abrasion (coating performance)
• Martindale microscratch resistance (coating performance)
"We are tremendously honored to be awarded the Best of Surfaces Innovation award for our game-changing Dogwood Densified Wood technology," said Brian Carson, CEO. "This award means a lot to all of us. This Innovation award validates AHF's success in developing new technologies and solutions that improve not only our product line and enhance the consumer experience, but also how we serve our customers and build lasting value for everyone."
Indeed, Dogwood aims to give traditional hardwood enthusiasts a reason to embrace the category in the midst of all the competing wood "look-alike" products on the market. Hence the reason why AHF Products thought the judges voted for the product in this category. "Dogwood is an opportunity to bring consumers squarely back into the hardwood category while giving our channel partners an opportunity to grow their sales and margins," Carson explained. "Retailers will now have a terrific competitive edge with the real hardwood floor consumers want and with the performance attributes they need. We're really proud of this win, and I'd like to thank the entire AHF team for their hard work and dedication and our customers for their commitment to AHF."
Pictured here are Travis Bjorkman, AHF's senior research scientist who developed the process; Brian Parker, AHF; Steven Feldman, FCNews; Brian Carson, AHF; Dustin Aaronson, FCNews; and Wendy Booker, AHF.