Bella Flooring Group re-emerges anew

WWhile some in the industry may remember Bella Flooring Group as a consortium of Chinese manufacturers tempered on cheap products and mediocre service, the new brand and revamped Bella has set its sights on supporting retail needs with innovative product lines. , American manufacturing and a customer-centric approach.
Primarily in its efforts to achieve those lofty goals, Bella Flooring Group is now owned by newly invested partners and has appointed an experienced leadership team. "Bella's leadership has changed completely over the past year and a half and we are more focused on taking care of our partners first," explains Paul Dominie, president of sales and marketing.
In addition to Dominie, the company cited Tyler Geren as CEO. "Tyler came from outside the industry, so he gives us a refreshing new look at many different aspects of the business," explains Donie. "One of the things he does all the time is challenging us to make sure what we do makes sense for our partners. Often companies will create things, but they don't translate or don't feel like working in the field. Tyler always challenges us to ensure that whatever we do will equal success in the field."
Dominie added that the company consists of a very small group of leaders, supported by a strong team in the market. "We specifically did that so that we have more resources in the field," he explained. "I never feel like a company has to be top-heavy. You need people who can make decisions and who know the industry and guide it, but the real thing that matters is the street level people who can go out and meet their customers, make decisions, put programs together. that are meaningful to them and well executed."
With her leadership team in place, Bella focused on simplifying the process to market. "We used to take a shotgun approach to getting our products into people's hands," Donie noted. "Now we are very focused on private label programs, distribution and OEM."
Bella also moved production from China to other areas with resilient flooring expertise, but with easier market reach. "As time went on and the rates went up, we found better partners and were able to move from China to Vietnam, Cambodia and South Korea and now we're going to produce in the US," explains Donie. "Everyone knows the complications of importing from Europe or Asia. You have time factors that are just there. You have four to eight weeks from the time it's manufactured to get it on a boat and ship – and that's if it goes through customs properly. We really wanted to shorten that cycle and we found a partner that is known for their quality, their simplicity in production and we were able to put together a program that works from both sides."
Cutting the product line
With the first steps to redemption in place, Bella focused on perfecting her product portfolio. What used to be countless product lines across different flooring categories is now a curated collection of design-oriented, cost-effective hard surface options that follow today's trending visuals. That hard surface portfolio includes the industry's two major growth categories – LVT and SPC – and the most ambitious product available in the industry: hardwoods.
In addition, Bella Flooring has expanded its product portfolio with a Made in the USA line, which will include design-driven rigid core SPC. Meanwhile, the expanded product line focuses on visually appealing hard surface options with matching trim and moldings. The hardwood range, for example, is a designer curated collection of trendy, sleek wood looks without distortion. "We've got three pines, two maples and one oak lined up, and the response from those who've seen it said we know exactly where the trends are going and they're really excited to see something that won't be a bunch of chatter marks." or distortion thereof."
Addressing the needs of today's consumers seeking more health-conscious materials for the home, each product in the portfolio also has an antimicrobial component in the surface "to help people not be afraid of viruses and without the need to scrub it extra hard to get the grime off," Donie explained.
The company also focuses heavily on inventory to give its customers a very short turnaround time, as well as competitive pricing, allowing its retail partners to make the most of the brand. "You place an order before noon, it ships the next day by noon," Donie said. "Bella is very easy to do business with these days."
Proving its worth
Proving just how much the company has shifted its priorities towards the well-being of its partners, the company took an unprecedented step for the flooring industry this year by cutting prices for its SPC and LVT products by an average of 6% across the board. . The price reduction took effect on June 27.
"Our business is up 50% from last year and we're linking that back to rebuilding our partnerships and doing the right thing," Donie said. FCNews† "Our belief in doing the right thing is now deeper than ever and we've seen the results. Our motto is to support our partners 100%, not just when it's good for us."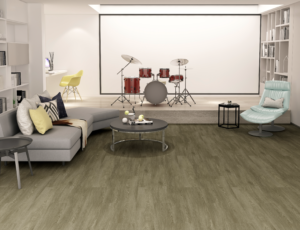 Donie said shipping costs have been slashed over the past three weeks and it was the company's responsibility to pass those savings on to its customers. "If you look at the cost of a product that is imported – SPC, LVT – 50% of that cost is the shipping cost. If that goes down, there is a significant cost saving. That saving, which is part of a good collaboration, must be pass you on, just like when it went up."
Dominie noted that after the price adjustment, the average cost of a Bella Flooring SPC/LVT is in the $2 range. "For us, it's just an adjustment back to where it should be," he said. "Before we launched our Made in USA line, 99% of our products came from abroad and if we see significant cost savings we will pass it on. Running an effective business means that you ebb and flow according to your costs. We believe it is a way to support our partners, especially at a time when they are seeing a slowdown."
Customers can use their current price list, minus their respective drop across the board, or contact the company for new prices. Donie said the Bella Flooring Group sales team is currently working in the field with its partners to help implement the new price cut.
Branding efforts
Along with a new leadership team, go-to-market strategy and product portfolio, the company has also revamped and updated its digital offering and image. To facilitate the success of its retail partners, Bella Flooring Group has updated its website with product information, sample ordering and even lead generation.
However, one thing dealers won't find on the website is a dealer locator – and for good reason. "We don't have a dealer locator on our website because having a dealer locator opens up your location for shopping through other locations in that same area," explains Donie. "They can see anyone in that area who has the brand and then it becomes a price war. What we do is we receive the request and we quickly forward that lead to the closest, strongest partner we have."