Asheville energizes four new solar arrays totaling 176 kW
Four new solar panels were recently activated at Maple Crest in Lee Walker Heights, an affordable apartment complex in downtown Asheville, North Carolina. Mountain Housing Opportunities (MHO) and the Housing Authority of the City of Asheville partnered with Pisgah Energy and Eagle Solar & Light to design, develop and install the roof-mounted solar panels totaling 176 kWdc. The renewable energy produced by the arrays serves as on-site electrical generation for the apartment complex and helps offset the energy consumption of four apartment buildings.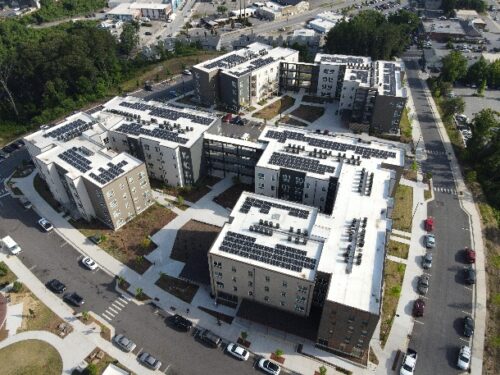 Asheville Housing has invested more than $10 million in energy efficiency improvements in its communities over the past 15 years, but this is its first major solar PV initiative. "We are proud of this work, which reduces both our carbon footprint and our operating costs, to keep our communities affordable," said Executive Director David Nash.
This is the third solar installation in affordable housing for Mountain Housing Opportunities, which last year installed similar, albeit smaller, systems at East Haven Apartments in Swannanoa and Eagle Market Place in downtown Asheville. MHO has also previously installed two solar thermal systems.
"Many thanks to the NC Housing Finance Agency for providing the additional funding that covered the cost of this installation," said MHO Director Scott Dedman.
Pisgah Energy was the lead designer and developer and partnered with Eagle Solar & Light to provide construction services for the project. According to Evan Becka, President and Senior Project Developer at Pisgah Energy, "It was a pleasure to work with MHO, Asheville Housing and Eagle Solar & Light on this project. We believe solar is for everyone, so it means a lot to have played a role in bringing solar energy to Maple Crest Apartments."
Eagle Solar & Light installed the project using Qcells modules, SolarEdge inverters and PanelClaw's flat roof rack system. "It was an honor to be able to place the solar panels at this location. At the end of the day we often have a great sense of accomplishment from what we do, but knowing who would benefit from it really made this project special. The lower energy bill thanks to solar makes it even better," said Michael Churchman, Chief Operations Officer of Eagle Solar & Light.
News from Eagle Solar & Light