Armstrong Flooring to sell assets to AHF, Gordon Brothers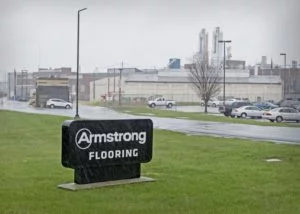 Armstrong Flooring Inc. announced late Sunday that it has agreed to sell virtually all of its North American assets to AHF Products and Gordon Brothers, the latter a global consulting firm based in Boston known for liquidating assets. Armstrong originally filed for bankruptcy protection in May 2022.
The deal, reportedly for $107 million in cash and the assumption of certain liabilities, must be approved by a judge of the Delaware bankruptcy court. A hearing on the sale is scheduled for Tuesday, July 12. In addition, Armstrong Flooring said it expects it will also announce final purchase agreements for its Chinese and Australian businesses shortly, after it has received binding bids to acquire each.
As explained by Armstrong Flooring, AHF Products and Gordon Brothers would acquire substantially all of Armstrong North America's assets. AHF said it plans to continue operating its Lancaster, Kankakee and Beech Creek locations, and Armstrong would aim to phase out its Jackson and Stillwater locations by July 15, 2022. Once completed, Armstrong Flooring will continue as usual. continue to work in all North American geographies.
As reported by FCNews, AHF Products, which split from Armstrong Flooring in 2018, emerged as a late bidder in a bankruptcy suit filed on May 11. and continues our growth as a leader in the flooring industry," said Brian Carson, president and CEO of AHF Products in a statement.
Mountville, Pennsylvania-based AHF is the largest hardwood flooring manufacturer in North America and has experienced rapid growth in a range of additional flooring categories, including vinyl plank, laminate and commercial flooring products. The company has eight manufacturing facilities, seven in the US and one in Cambodia, and three domestic distribution facilities to serve customers through a multi-channel strategy that includes dealers, home centers and distributors around the world.
"Our investments in new brands, products and capabilities, both organically and through acquisitions, have fueled this growth," said Carson. "Our strategic acquisitions have been a major driver in expanding our reach and product offerings to provide our customers with leading commercial and residential products, including hardwood, resilient and laminate. That is and will remain our strategy for the future."
The proposed transactions stemmed from a court-supervised auction that began on June 27, 2022, with the bid from the AHF and Gordon Brothers consortium being the only binding offer received for virtually all North American assets. Without a successful bid, Armstrong Flooring was about to close the final chapter in a 150-year history.
"We have worked hard to execute an efficient and value-maximizing sale of the business while keeping the interests of our valued stakeholders at the forefront of everything we do," said Michel Vermette, president and CEO of Armstrong Flooring. "In light of the agreement we have reached with AHF and Gordon Brothers, and the agreements we are about to sign with the buyers of the Chinese and Australian companies upon completion of the auction, Armstrong Flooring is now one step closer to achieving that goal. †
Vermette added that the company had hoped to find a buyer for the entire company and avoid closures of its facilities. "However, based on the options available, we believe this is the best possible way forward for our business. This reflects the support of our ABL lenders, creditors and other key stakeholders, and has been approved by our board of directors. While we cannot speak on behalf of the proposed buyers, we are encouraged that they see the company's potential in the markets we serve and understand the role our people play in driving the business forward."
Armstrong Flooring said it is working with its debtor-in-possession (DIP) lenders to allow the company to continue its operations while the buyers finalize all the details and close the sales transactions.