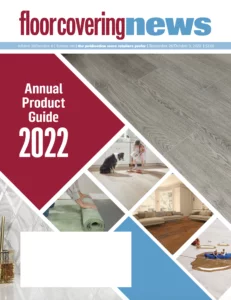 Annual Product Guide 2022 – Floor Covering News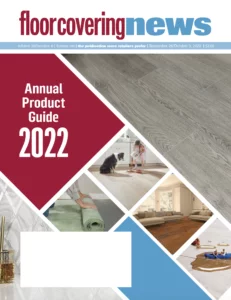 AAs supply chain delays eased, flooring manufacturers resumed delivering winning products to their flooring retailers. Indeed, FCNews' 2022 Annual Product Guide is a nod to many of the excellent products that are hitting the market.
This year's guide featured a record 29 suppliers showcasing their wares – from ultra soft carpet to hard core SPC. This year, several newcomers appear in the guide. Eagle Creek Floors, a Home Legend brand, has unveiled a rigid core product called ScratchBoss. This rigid core vinyl plank and tile provides rugged protection against scratches, scuffs and dings.
Durato USA introduced its V-EVO XL collection of extra-long and ultra-wide planks, ideal for commercial and hospitality venues. V-EVO XL has its signature Quantum X wear layer, reinforced with real diamonds, for extra protection against scratches, stains and dents,
Klöckner Pentaplast (kp), a global leader in recycled content products and high barrier protective packaging, is best known for its services to the pharmaceutical, medical device and protein markets. But it is also tangentially present in floors as a supplier of printing and wear layer solutions for luxury vinyl. An example of this is kp Print Layer floor films, which work with many WPC or SPC core materials.
Top 5 floor distributor Galleher introduced a selection of brand families, including the Reward Flooring's Islands and Castillo collections. For example, the Castillo collection includes Arborea, a plantation-grown hardwood floor that is hand-scraped by skilled woodworkers.
Of course, the product guide also includes industry heavyweights such as Mohawk, Shaw and Engineered Floors. One of Mohawk's featured products is UltraStrand, a carpet made from high-quality nylon. The end result: refined softness, long-lasting beauty, proven durability and color fastness.
Shaw Floors' Home Within is a plush linen that offers dimension and texture. The striking pattern features a balanced color palette that provides a distinct presence in the home with its matte base and glossy accent.
Engineered Floors debuted Manuscript, the company's most recent DW Select introduction featuring a high-contrast geometric pattern that utilizes PureColor's patented, mass-dyed PET twistX technology. This color-enhanced MLCL (multi-level cut loop) pattern uses the latest tufting technology to create a sophisticated image suitable for bedrooms, living rooms and entertainment areas.
On the hard-surface side, Mannington showcased Revival, this year's addition to this year's announced Restoration laminate collection. Revival is an 8-inch wide pattern with 20 individual shelf designs highlighted by subtle hand sculpting and wire brushing.
TRUCOR, the hard surface brand of The Dixie Group, did not disappoint with its four selections. The brand included the new Tymbr XL collection. Tymbr XL is built with a durable wood fiber core (WFC) and is built to perform with exceptional durability. Its AC6 abrasion resistance makes it suitable for commercial and active living spaces.
Tarkett's hard-core ProGen floors, meanwhile, can be installed in any room of the house, including three-season rooms with extreme temperature fluctuations and rooms most prone to moisture and spills.
For hardwood enthusiasts, there are Mercier and Mirage. For starters, Mercier's unique finishing process for its Naked collection gives its White Ash Naked range a European and modern look, while Mirage's Flair collection is distinguished by the natural characteristics of hardwood grain. Indusparquet impressed with its Tigerwood trademark by adding a darker stain to expand the palette.
FCNews' Annual Product Guide 2022 promotes the latest and greatest offerings from industry players representing all categories. Each manufacturer who chose to participate in this special issue was given the opportunity to submit a photo and description of four recently introduced products or top sellers. The idea here is that not only do they stay on your radar when offering options to consumers, but they also earn placement on your showroom floor. In addition, this special issue is intended to provide information that floor dealers can use when customers walk into your store looking for a particular product.
Regardless of the personal taste or preferences of consumers in your local market, chances are you will find a number of suppliers in the guide offering a range of products with both soft and hard surfaces. Think of the Annual Product Guide as your one-stop shop for great products on the market, helping you make recommendations to customers.
To view the full guide, click here.