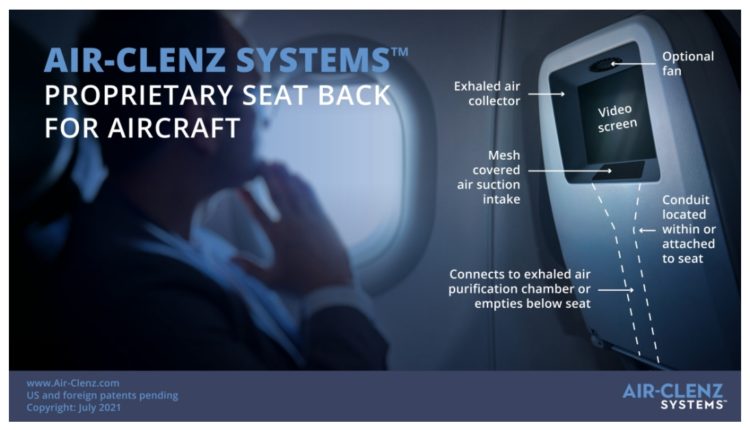 Air-Clenz Systems Announces Technology Breakthrough That Captures, Isolates, and Cleans Exhaled Air in 10 Seconds and Within Two Feet of Individuals
ATLANTA–(BUSINESS WIRE)–Air-Clenz Systems™, LLC (Air-Clenz) today announced a groundbreaking technical approach for cleaning exhaled air quickly and close to the face. The patent-pending Air-Clenz exhaled air purification technology is designed for most indoor multi-seat spaces. It cleans exhaled air and removes pathogens such as COVID-19 and the Delta variant within seconds, reducing the risk of contamination in confined spaces. Air-Clenz's patented approach allows for safer enclosed environments without face masks.
Many viruses – including COVID-19 – are spread through the air primarily in aerosol form and are generally not readily captured by current HVAC systems. These ventilation systems draw pathogens across a room — and past other individuals — to a remote air return point, increasing the risk of disease transmission, even in systems with advanced filtration and other treatment methods.
Research reports published earlier this year in the British medical journal and Lancet argue that COVID-19 and its variants are mainly spread by inhaling fine aerosol particles that remain in the air for hours. Earlier this year, the Centers for Disease Control and the World Health Organization both recognized aerosols as the primary cause of the spread of COVID-19. Several studies show that infectious pathogens such as COVID-19, the flu virus and even the common cold can travel through the air for more than 15 minutes and more than ten meters in aerosol format before being captured by traditional HVAC air intakes.
"Air-Clenz technology is designed for aircraft, transit, vehicles, theaters and other multi-seat environments," said Stuart Sheldon, CEO and president of Air-Clenz. "Our patented technology for purifying exhaled air captures, isolates and removes pathogens faster than ever before. The Air-Clenz technology is the result of a collaborative design effort with a scientific advisory board of seven leading scientists, health professionals and mechanical engineers."
The need to improve indoor air quality has been of new importance since the outbreak of the coronavirus. A leading group of 39 scientists led by Lidia Morawska, an aerosol physicist at the Queensland University of Technology in Australia, called for indoor air regulation in a paper published last month in the journal. Science. A recent University of New Mexico study of air quality in aircraft cabins, published in the journal Physics of liquids, indicated that while airlines promote complete air changes in the aircraft cabin every 2-3 minutes, advanced modeling shows that aircraft ventilation systems remove only about 25 percent of pathogens from the air in the cabin. Contaminants were found on passenger clothing, seats and on the walls and floor of the cabin.
Initial research into Air-Clenz's technology in indoor seated environments shows that the system typically captures an estimated more than 80 percent of a person's exhaled breath within 10 seconds.
"Removing viruses quickly and close to the mouth and nose of sedentary individuals in such environments will certainly reduce the spread of current viruses such as the Delta variant, as well as future viruses, such as the common cold, flu and the next COVID-19 virus." virus. -like virus," explains Sheldon. "It also makes economic sense. Numerous authorities estimate the global economic cost of COVID-19 at more than $20 trillion, and annual losses from flu and other respiratory viruses cost billions upon billions of dollars. Air-Clenz' technology is a cost-effective solution to this challenge."
Pathogens caught within 10 seconds
Air-Clenz technology works faster and more effectively than ventilation systems (such as HVAC systems and air purifiers) because Air-Clenz's patented exhaled air collector is placed in or on the back of a chair, usually within 2 feet of a seated person's body. person. face. HVAC systems are not designed to quickly capture exhaled air, and air purifiers are designed to generally purify the air in a small or medium-sized room. The concentration of the collected air in the room is therefore greater than that of the exhaled air. However, Air-Clenz is designed to capture, isolate and purify a significant amount of any exhaled air before it has a chance to spread throughout the room.
Each Air-Clenz exhaled air collector captures and isolates the majority of a sedentary person's exhaled breath. The captured air is then cleaned in an air purification chamber and the purified air is either returned to the indoor site or moved to the site's HVAC system to return to the site.
"Air-Clenz theorized in early 2020, at the start of the pandemic, that COVID was primarily transmitted through the air. Given the company's focus from nearly the start of the COVID pandemic, we've learned a lot about how aerosols travel through a space and what HVAC systems and air purifiers can and cannot do," said Dr. Ron Blum, Air. -Clenz Systems chairman and core inventor. "We believe that Air-Clenz's engineering approach ensures the safest known multi-seat indoor environment, not only with regard to COVID-19, but with all airborne viruses. The best way to reduce the spread of airborne pathogens is to quickly capture, isolate and clean exhaled air before it becomes so dispersed that it is impossible to capture and clean it."
Even as the COVID problems go away, threats are posed by variants like Delta, and many doctors and researchers believe that respiratory illnesses — including colds and flu — will return aggressively this fall and winter. In June, the CDC issued a health advisory on the respiratory syncytial virus, which is spreading unusually early this year.
"Should COVID be completely eradicated, which it will not, other airborne pathogens such as the common cold, the flu and the measles will be easily spread within indoor spaces," Sheldon said. "The more limited the interior space, the greater the degree of sensitivity and caution required. Facility owners – whether they operate airplanes or movie theaters – should upgrade their ventilation systems based on the lessons learned from the COVID pandemic."
About Air-Clenz Systems and its Scientific Advisory Board
Air-Clenz systems (www.air-clenz.com), based in Atlanta, Georgia, was launched by proven inventors, scientists and collaborative partners seeking to solve the major global challenges posed by the coronavirus pandemic, for the benefit of the world's population at large. Air-Clenz's management team has a significant track record of identifying global needs, devising solutions to meet such needs, protecting intellectual property, developing technology, and selling or licensing of the inventions to Fortune 500 companies.
Air-Clenz Systems places its proprietary multi-seat indoor technology within two feet of a person's nose and mouth, allowing pathogens to be collected, isolated and removed from exhaled air before they can spread. The technology can be adapted to virtually any multi-person environment, especially in locations such as airplanes, vehicles of all kinds, theaters and all kinds of indoor entertainment, places of worship, offices and educational institutions. In addition, Air-Clenz has adapted its technology to work in elevators.
Air-Clenz's Scientific Advisory Board includes Rama Rao Amara, PhD and Professor, Emory Vaccine Center, Professor, Department of Microbiology and Immunology, Emory University School of Medicine; Kevin Karem, PhD, director of one of the FDA labs and former Global Health Associate Director for Laboratory Science at the CDC; Victoria Cerami, Chief Executive Officer, Cerami & Associates an acoustic engineering firm with over 80 engineers; Chengzhi Shi, PhD, assistant professor of mechanical engineering at Georgia Tech, specializing in acoustics; Lawrence J. Schoen, PE, Fellow ASHRAE, chief engineer for Schoen Engineering Inc.; Ernest Conrad, PE, BOMA Fellow, Chief Executive Officer of Conrad Engineers, a professional engineering consultancy; and Anita T. Broach, PhD, materials scientist, chemical engineer, and chief scientist at Air-Clenz.
Science newspaper article: A paradigm shift to fight indoor respiratory infections

Physics of liquids newspaper article: Simulation of aerosol transmission on a Boeing 737 aircraft with intervention measures to mitigate COVID-19