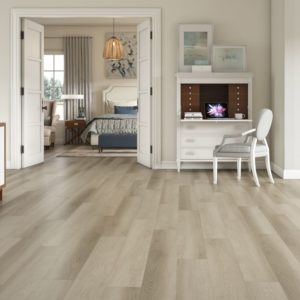 AHF's tmbr brand introduces Yosemite rigid core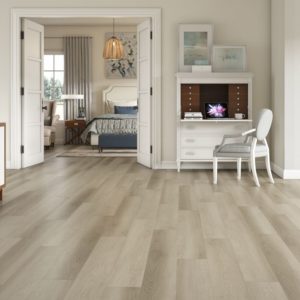 Mountville, Pa.—AHF Products, a leading manufacturer of hardwood floors in the US, introduces the Clearwater SPC Yosemite Collection, the first line of hard floors under the tmbr brand. Called the company a "millennial brand" in terms of marketing and position, tmbr hardwoods — and now resilient flooring products — are designed for a generation seeking a natural, outdoor look in a product that also offers decor, performance and social aspects. responsibility they desire.
"This is a stylish, low-maintenance floor that is perfect for the person looking for an easy, yet beautiful and practical floor," said Kevin Whaley, vice president of sales and marketing, tmbr brand, AHF Products. "Recently, the concept of 'bringing the outdoors in' has gained ground with both the design community and millennials as the demand for a home in harmony with nature has increased. With tmbr, people can breathe new life into their homes with a floor that reflects a little bit of the outdoor experience every day."
While tmbr's unique hardwood visuals are inspired by some of the world's most naturally beautiful destinations, the new Clearwater SPC Yosemite collection is no exception. The Yosemite collection features 12 naturally inspired colors and textures with wide widths and long planks, in a matte, low-gloss finish. The line is characterized by minimal maintenance/high quality of life. Exclusive Clearwater technology means this product is 100% waterproof and durable enough to withstand everyday spills and accidents, the company said. Yosemite is quick to install with a very strong locking system. The product can be installed in direct sunlight and is said to work in both high and low temperatures. Made in the USA with 85% material sourced from the USA, it uses 20% recycled material and is Green Guard certified. The floors come with a 35-year warranty.
Cain & Bultman is one of the first distributors of the new collection in the states of Florida, Georgia and South Carolina. "We are excited to launch tmbr Clearwater SPC Yosemite with all of its attributes coupled with the success we've had with the AHF tmbr wood line," said Shawn Moloney, vice president, residential, Cain & Bultman.
Justin Hertzell, tmbr sales manager, Eastern US & Canada, added: "We are pleased to join Cain & Bultman. Their reputation and service capabilities coupled with our industry-leading US-made tmbr SPC collection will be a home for their retailers."
AHF Products said it aims to reach millennials through their shared interest in corporate social responsibility. One of the partners tmbr works with is the Arbor Day Foundation, the largest 501(c)3 non-profit membership organization dedicated to planting trees. More than a million members, supporters and valued partners have helped plant more than 350 million trees around the world to ensure a greener and healthier future.
Supporting tmbr's local independent retailers is just as important as supporting environmental responsibility. IndependentWeStand inspires small businesses to celebrate their local roots and helps consumers understand why it's important to support them. Tmbr said it has joined as a sponsor and has organized a membership program for all of its dealers.