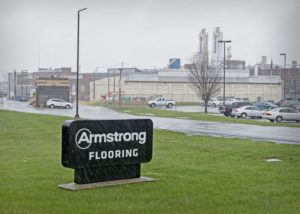 AHF receives court approval for Armstrong purchase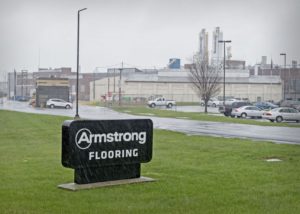 Mountville, Pa.-AHF Products announced today that it has received bankruptcy court approval to purchase certain assets of Armstrong Flooring, Inc. acquisition, strengthening AHF Products' leading position in resilient flooring solutions and giving new impetus to its growing commercial market activities. The acquisition includes the purchase and operation of three US manufacturing facilities located in Lancaster and Beech Creek, Pennsylvania, and Kankakee, Illinois.
"Our investments in new brands, products and capabilities, both organically and through acquisitions, have fueled our growth," said Brian Carson, President and CEO of AHF Products. "Our strategic acquisitions have been a major driver in expanding both our reach and product offerings to provide our customers with leading commercial and residential products, including hardwood, resilient and laminate. That is and will remain our strategy for the future. Our ongoing commitment is to create products that add more value to our customers, across all categories."
Since its inception, AHF Products has grown rapidly in both the residential and commercial floor segments by innovating and broadening its product offering, through its world-class brands, manufacturing capabilities and distribution channels.
"Our stable of top brands enables us to provide our channel partners with the right style, value, innovation and marketing to differentiate themselves and increase market share," added Carson. "We continue to be a leader and a one-stop shop for our customers."
AHF Products continues to invest in U.S. manufacturing and this purchase expands AHF Products' domestic footprint, improving the company's customer base, production efficiencies and logistics capabilities. Ten U.S. factories help maintain jobs in U.S. manufacturing and boost local economies. In addition, the company's domestic manufacturing capabilities provide isolation from volatility around rates, duties and high shipping costs, allowing AHF Products to continue to provide superior customer service in the face of a disrupted global supply chain.
AHF Products said it is well placed to continue its remarkable growth trajectory through continued innovation and industry-leading customer service. AHF Products, headquartered here, is a leader in hardwood, vinyl plank, laminate and commercial products. Following the acquisition of the Armstrong assets, the company will operate 11 manufacturing facilities: seven wood mills, three vinyl plants in the US and one engineered hardwood plant in Cambodia. Three domestic distribution facilities serve customers through a multi-channel strategy that includes dealers, home centers and distributors.
The purchase is expected to close in the third quarter of 2022 and is subject to customary closing conditions.