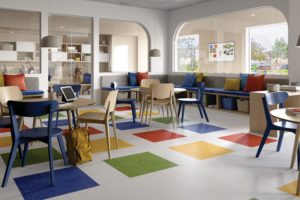 AHF Products showcases extensive commercial portfolio at NeoCon
Chicago—AHF Products showcased its recently expanded and expanded portfolio of commercial flooring here at NeoCon 2022 last week. AHF's commercial portfolio (Parterre and AHF Contract) includes homogeneous sheet, heterogeneous sheet, inlaid heterogeneous sheet, LVT and its new vinyl-based tile (VBT).
VBT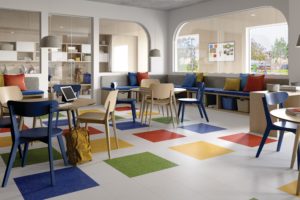 Expressive Ideas, the new VBT marketed under the AHF Contract brand, offers lower maintenance and life cycle costs compared to traditional vinyl composite (VCT) tiles, with colors specifically developed for commercial environments, the company said.
According to the company, the revolutionary, low-maintenance VBT product offers superior scratch, stain and abrasion resistance without polishing, reducing the total cost of ownership over the life of the floor. Education, corporate, retail and healthcare environments can resume operations much faster and with minimal disruption thanks to a simpler maintenance regimen and a variety of performance benefits that improve efficiency, productivity and sustainability goals, the company said.
Close-patterned tones are designed to effectively mask wear and grime in busy commercial areas. From bold bright to subdued natural colors, the line features a 28 color palette. "Commercial customers have said they like the coloring and premium chip visual of the new VBT product," said Fred Reitz, vice president of commercial, AHF Products. "Customers give high marks to AHF Products for continuing our practice of asking the market for what it wants and providing products that meet this need."
Featuring a tough 2.5mm construction with a 20 mil wear layer and square edges, the VBT line offers a glued-down installation, which is ideal for large area installations and can easily handle rolling loads and heavy traffic. The collection is available in a wide range of color options and comes in a standard 12 x 12 square edge tile. All are topped off with the Urethane Plus with ceramic bead finish. The coating offers superior resistance to scratches and stains, but is also easy to clean — the floor should be swept regularly to remove excess dirt and grit and a damp mop, but requires no waxing, polishing, sealers or finishes, the company said. . Backed by a 15-year limited commercial warranty, this collection is designed for healthcare, assisted living, education, corporate, hospitality, retail and institutional spaces.
VBT is FloorScore certified and is made from 100% virgin vinyl – no phthalates or heavy metals.
LVT
Within Nod to Nature's new contract collection, each design comes in three different structures: Rewilding, traditional dry-backed LVT; Individuality, loose-lying thick LVT; and Visionary, SPC rigid core. The same designs, including wood, linen and stone visuals, are offered in multiple constructions, allowing the client to choose a construction look that best suits their needs, making it easy to find the right floor for any project space, the company said.
Each size delivers superior performance thanks to HartGuard ultrashield, which not only resists dings and stains, but its highly durable surface makes it easy to clean — just simple maintenance with damp mopping, the company says. The collection comes with a 15-year commercial warranty, plus the floors are FloorScore certified and contain the exclusive Cleantivity antimicrobial technology, which is said to inhibit the growth of bacteria, mold and mildew that can attack the floor. These floors are designed for use in healthcare, assisted living, education, corporate, hospitality, retail and institutional interiors.
According to the company, all vinyl plank and tile textures offer unique benefits that support commercial space requirements and installation preferences without sacrificing design. They all offer a 20 mil commercial wear layer and the 15 year commercial warranty.
"We drive a performance story with an easy-to-clean and anti-scratch, anti-stain, and anti-microbial story along with great designs," said Fred Reitz, vice president of commercial, AHF Products. "AHF Contract allows designers to choose from a wide selection of styles and colors to bring commercial spaces to life."
Sheet
AHF Contract's heterogeneous and homogeneous vinyl record line is designed to provide a solid, durable and stable floor that can withstand heavy rolling loads. The homogeneous line would provide a true continuous layer, with the same construction and pattern throughout. The heterogeneous collection features traditional, best-selling wood visuals, stones, linen and abstracts – something for every design aesthetic. The ability to heat-weld these products makes it perfect for healthcare environments that require extra cleanliness. It's also environmentally friendly: 100% virgin vinyl with no phthalates or heavy metals. These floors are also designed as low-maintenance floors: no waxing or polishing is necessary; no sealers or finishes required, but accepting the floors wax if this maintenance routine is preferred, the company said.
AHF Products also offers AHF Contract inlaid heterogeneous sheet vinyl. The specific inlaid construction ensures that the chips are embedded in the wear layer and the result would be a floor with impressive depth and a subtle textured design that hides dirt and traffic patterns. They all offer a 22 mil commercial wear layer, as well as the 10-year commercial warranty. All AHF Contract commercial vinyl floors are ideal for use in healthcare, assisted living, education, corporate, hospitality, retail and institutional interiors.