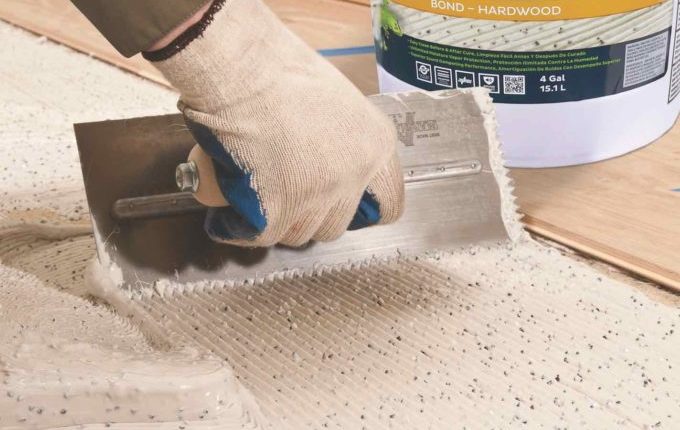 Adhesives: Greener formulations retain functionality
Through KJ Quinn T.here are many different floor adhesives, each of which offers benefits to weigh and compare with prices. Regardless of the brand, the performance of the material ultimately depends on its ability to bond floor coverings durably and successfully in a manner acceptable to installers. From high-strength construction epoxy adhesives to thinset or thick-bed mortars, the latest adhesives deliver speed and efficiency while meeting environmental regulations such as green adhesives.
"The latest generation of adhesives are very installation-friendly, contain significantly fewer VOCs and ensure long-term performance," said Wayne Williams, Stauf's Director of Education.
In the residential market, adhesives are used in a wide variety of remodeling and new construction applications. Materials that are easy to trowel, provide strong adhesion and have green grip properties are preferred by installers. "For example, if you're working in homes with resilient products, it's important to be able to reposition the product when needed," said David Moore, Mohawk's senior director of accessories. "But in commercial matters you want the product to stick and not move."
Today's adhesives are tailored for the critical elements of floor installations, experts say. For example, the latest solid-cured adhesives for LVT and LVP have tremendous adhesion and shear strength and are formulated to meet the demands of heavy traffic and heavy rolling loads. "Pressure-sensitive adhesives for removable applications, such as carpet tiles, have an extremely high and long-lasting adhesive power," said Jake Stadler, Bostik Market Manager. "So that floors can be repaired and replaced without the need for additional glue."
Modern adhesives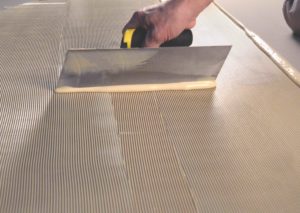 Much of the technical advancements have to do with improved performance, especially with regard to the moisture content of the subfloor. The latest adhesives have been developed to handle the harsh conditions of the subfloor, as installers and contractors are looking for shorter installation times and less upfront preparation. "From an installation perspective, matching the correct adhesive to the selected floor covering can be quite confusing," said Gabe Moore, technical director of Taylor Adhesives. "We have developed Dynamic [formulated with a recycled polymer and a bio-based material] as a multipurpose adhesive that makes it easier for installers as it can lay almost all types of floors except wood. "
While the performance and versatility of adhesives have improved, the industry's focus on eco-friendly features has also increased. "Many adhesives from previous generations contained solvents and other petrochemicals that produced much higher levels of VOCs," noted Williams. "Across the board, the current adhesive formulas have a much lower VOC content."
Major technological advances have made it possible to keep pace with the market's desire for products that not only guarantee long-term performance, but are also more environmentally friendly. For example, the Henry 647 PlumPro Fast-Track Vinyl Floor Adhesive is a water-based acrylic polymer adhesive with no VOC content. "Yet it has moisture resistance up to 99% RH / ASTM F2170, feels dry just minutes after application and the new floor can be loaded immediately," said David Fabyonic, Adhesives Marketing Manager at Ardex. "Such properties in a water-based adhesive were unheard of not so long ago."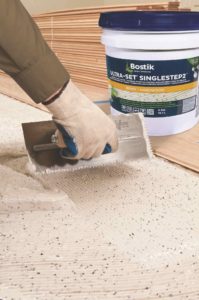 The latest adhesives have been developed to meet strict and evolving green building standards. "This includes biobased raw materials in adhesives, solvent- and phthalate-free products and a large, concentrated focus on indoor air quality and lower VOCs during and after installation," said Stadler van Bostik. "Even down to the packaging in which the adhesives are delivered, there is a lot of attention for sustainability."
The added emphasis on environmental friendliness also fuels critical technological achievements. For example, modified silane polymers are an increasingly used form of adhesive that rivals the performance of established urethanes with the added benefit of being cleanable. "The ability of modified silane polymer adhesives to be easy to clean, both wet and cured, is a significant improvement for installers," said Dave Cima, Eastern Sales Director, DriTac. "Modified silane technology is now also compatible with more types of floors than ever before, including both wood and resilient floor coverings."
Building a better mousetrap is easier said than done, however. "Our biggest challenge is to stay ahead of regulations and ensure that we deliver the same features and benefits while avoiding certain chemicals," said Mohawk's Moore.
The challenge is to ensure that when meeting ever-changing environmental regulations, application features that installers value (ie ease of troweling and fast drying times) and long-term performance are not compromised. "With all the demands to make adhesives greener, it's a struggle to get them to do the job they were designed for," said Williams of Stauf. "The flooring industry is constantly changing its products with new types of backings to which adhesives are more difficult to bond, making that challenge even more demanding."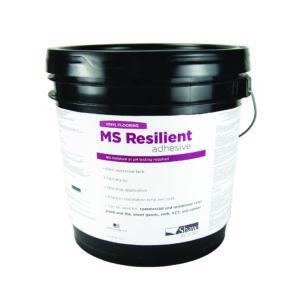 Shaw Industries said it is committed to providing adhesives that exceed customers' performance expectations, while also adhering to strict sustainability guidelines and principles. "We conduct our own performance testing to verify our supplier partners' research and address any discrepancies before a product hits the market," said Roger Young, director of category management miscellaneous at Shaw. "Our industry strives for an even more environmentally friendly offering by using biobased materials and ingredients with low or no VOC content."
The pursuit to produce an environmentally friendly adhesive line poses other challenges. The production costs of "greener" solutions are inherently higher than standard adhesives, which have fewer restrictions on the use of raw materials, industry members say. The additional R&D and product engineering required to meet evolving green standards involves both effort and costs.
"In addition, manufacturers must communicate the environmentally sound properties of their product offering to consumers by conducting independent third-party testing," said DriTac's Cima. "These tests can confirm whether or not an adhesive meets specific regulations, but they take time, planning and additional funding to run them."
Stay current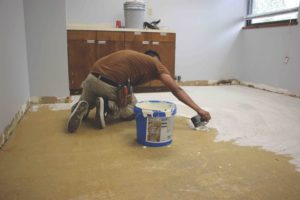 As the floor installation industry benefits from the explosion of new categories and technologies, it becomes more challenging for installers to keep up with trends and ensure they are using the best solution for the job. Communicating any changes in formulations that affect performance and installation is critical for suppliers. "We are committed to educating installers and our customers about the safety and efficacy of new products so they can confidently transition to more responsibly produced adhesives without sacrificing quality," explains Shaw's Young.
The same for Bostik, which uses numerous methods to inform contractors about the latest products. "We offer a variety of online training and product knowledge sessions, in person, on job sites, at our distributors and also in our training centers," said Stadler.
Glue makers said they also make it easier for installers to access product information. At Stauf, for example, there is a QR code on the label of each bucket, so that the installer can easily scan and see the latest directions. "There is also easy-to-obtain technical assistance by calling 1-866-GLUE USA anytime during normal business hours," said Williams.
Taylor supports customers through a direct line with a technical service representative to provide real-time advice and guidance. "Taylor also has a mobile app, allowing installers to have on-site installation instructions with just a click away," explains Moore.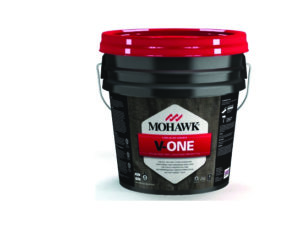 Installers are advised to use the many industry associations that offer professional training and various certifications. Several offer training seminars and courses to keep installers up to date with the latest industry developments. "With far more floor coverings and installation methods in use today than in the past, installers must take every opportunity to raise their awareness and expand their expertise," said Cima of DriTac.
Installers can also get support from local adhesive supplier representatives in learning the proper use of their adhesives and how they perform on different surfaces. This can not only increase their knowledge of specific products, but also help reduce failure rates. "With our tech-oriented field service team, Ardex Americas is at project sites every day to provide localized support and make product and system recommendations," said Fabyonic.