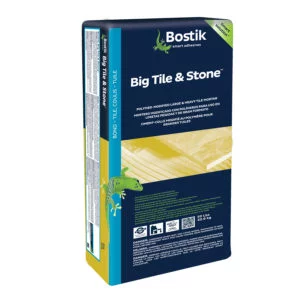 Adhesives: End users recommend their go-to glues
Today's professional installers have no shortage of adhesives to choose from when undertaking their flooring projects. Some call the "green grip" of a particular product, while others prefer adhesives that have a much longer pot life. In most cases, however, the choice of flooring adhesive comes down to ease of use, familiarity, cost and, of course, reliability.
FCNews gathered a few installers, contractors and craftsmen to identify the adhesive products that will help them seal the deal on the job site. Below is a selection of some of those products:
bostik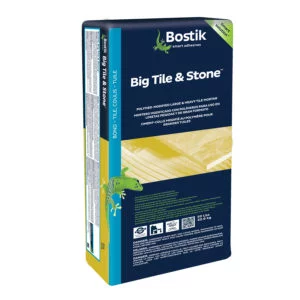 With large format tiles trending, especially large slabs of marble in various shades from stark white to a rich emerald green, finding the right kind of tile mortar for these installations is imperative. Enter Bostik Big Tile & Stone: a polymer modified, large and heavy duty tile mortar that can be used for both indoor and outdoor installations. Whether ceramic, porcelain, granite or marble, this product has it all.
"I've been in the flooring and installation industry for over 20 years and Bostik products have always been our favorite," said Josh Fox of MDG Flooring America in Medina, Ohio. "A large part of our work consists of working with 12 x 24 and 24 x 24 tiles and [Bostik Big Tile & Stone] is ideal for that. What I like the most is the workability, the resistance to sag and slump… we can work in extreme temperatures and be confident that the product will maintain its integrity all day long."
Different adhesives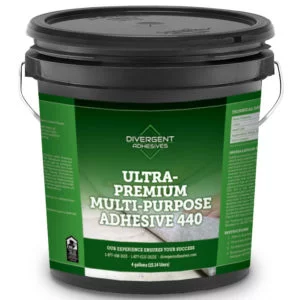 Divergent's 440 Ultra-Premium Multi-Purpose Adhesive has a solvent-free, non-flammable and freeze-thaw stable formula that covers a wide variety of installations. Divergent's 440 approved substrates include concrete, Portland-based subfloors, underfloor heating and more. It is moisture resistant to 95% RH, CRI Green Label Plus certified and has a longer run time, making it ideal for double glue and pattern matching applications, the company said.
"One of the things I need in a multipurpose adhesive is that it has a high solids content, which means there is less moisture, and this adhesive has that too," said PJ Arthur, CEO and Founder of the Natural Fiber Installer Certification (NFIC.) performance of this product has never let me down."
While Arthur trains and certifies installers, he said he recommends this adhesive to his installers taking NFIC training and told FCNews he also uses it in personal projects because of the performance this glue offers.
laticrete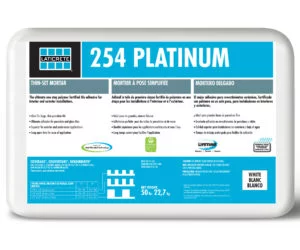 254 Platinum from Laticrete is a one step polymer reinforced thin grout ideal for thin porcelain tiles, thin porcelain tile panels and glass tiles. The smooth formula contains antimicrobial technology to help protect against bacteria such as mildew and mold.
It's the favorite product of craftsmen like Allison Eden, owner of Allison Eden Studios in New York, who has used Laticrete products to create her bold and whimsical high-fashion mosaic art that is expertly handcrafted. For each of these unique designs, Eden said they use only 254 platinum for its superior adhesion and easy mixing process that requires only water. With its long open time, it allows her and her team to work at their own pace without the pressure of rushing.
Sika/Dritac
Installers in the market for a reliable wood floor adhesive often turn to SikaBond-T55 from Sika/Dritac. This one component polyurethane adhesive is fast curing, crack bridging, easy to apply and can be used with a variety of woods, even beech and bamboo. Best of all, it is permanently elastic, meaning wood planks can expand and contract without damaging the substrate or the adhesive. The product can be used for both solid and composite wood.
"[Sika/Bond-T55] is a pleasant product to work with and a very flexible product," said Dan de Paula, owner of Picasso's Flooring Designer, which has multiple locations in the New York Tri-State area. "I have been using Sika for 15 years [for] all my jobs and I've never had any problems. It's the best on the market."
jam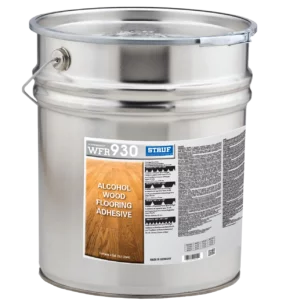 Newer doesn't always mean better. Sometimes it's the tried and true products that remain a favorite for years to come. In Stauf's case, the company's WFR-930 Solva-Mastic has been used to install more than 1 billion feet of flooring since it was introduced to the market in 1969. This alcohol-based, high strength formula contains no chlorinated solvents, is ozone and environmentally friendly and meets all VOC and EPA requirements.
"I'd say the main benefit is grip strength — it grips pretty well and sets up quickly," says Steven Donaldson, owner of Hardwood Flooring Specialists in Memphis, Tennessee. "It spreads much more easily than most adhesives and it is [an easier] to clean."
In addition to its strong gripping force and spreadability, no flash time is required, meaning installation can begin right away.
Taylor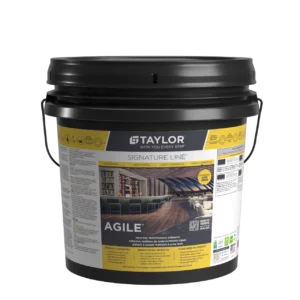 Taylor offers a wide range of solutions that can be used for multiple floor types. Take the Signature Line, for example, which includes a few adhesives (Agile and Dynamic) approved for various types of carpet, resilient and wood installations.
Agile's formulation is designed for both direct bonding and double bonding applications for carpet, linoleum, sheet and cork subfloors. It has a quick grip, a very strong bond and early leg development.
For Robert Varden, experienced installer and former CFI director, this is his product of choice for carpet installations. "I love the spreadability of it, the set-up time, and the fact that when I'm dealing with a patterned carpet and I'm having trouble stretching the pattern, it gives me a nice chunk of slip time."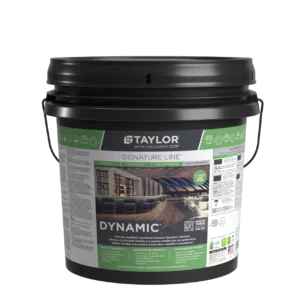 Dynamic, by comparison, is a fully cross-linked adhesive with solid bond strength while temporarily retaining PSA-like surface tack. The strong adhesive has a water-resistant bond and ColorReady technology that works with multiple types of floor coverings, such as carpet, LVT, LVP, rubber sheets, cork underlayments and more.
"I really like Dynamic because I like the way it spreads — it's smoother than most adhesives," says Anthony Castanon of Castanon Flooring in Dickinson, ND. "It's just a better quality glue."