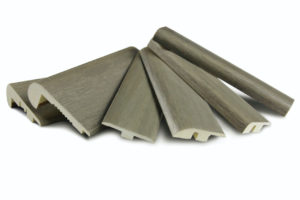 Accessories: Moldings, trims made to match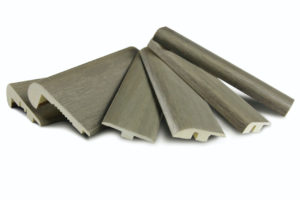 Artistic Finishes takes great care and pride in the components it creates for its customers – going as far as coloring one individual accessory at a time for a customer and adding new products such as the "LVT/LVP minis" on based on the demand of its end users. "The name Artistic Finishes really reflects what we do," explains Trieber.
The company has more than 2 million SKUs and when it comes to coordinating colors, Trieber said the sky is the limit. "We are constantly working on product development for new products, new colors, new thicknesses, new composites and new demands on the industry."
For many accessory manufacturers, color matching is only part of the goal. It is important to develop coordinating finishes and moldings that match the floor from a materials perspective. A good example of this is Pennwood Products, which strives to use the exact wood species when making its accessories.
"If a floor is made of white oak, we're going to make moldings from white oak," said Kraig Coxon, executive vice president of Pennwood Products. "Whatever the species, we're going to use that species — tiger wood, Brazilian cherry — we'll match the species so you get the exact same wood and then we match the color."
Companies such as Mohawk, which manufacture the flooring material as well as the matching mouldings, moldings and stair nosings, have the technological capabilities to develop products that match the floors of any flooring manufacturer, regardless of color, pattern or design.
"We have the ability to design our moldings to match existing or new floors coming to market," said Ruth Nelson, vice president of accessories. "Performance Accessories products are made with a precise color matching process to ensure compatibility with color palettes from the leading flooring brands."
Accessories = profit center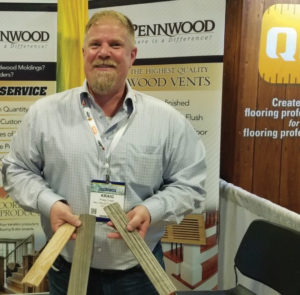 Matching/coordinating moldings do more than complete a floor installation; they also have the ability to offer additional winning opportunities. "It's like a necessary evil," Pennwood's Coxon joked.
Ultimately, experts say that taking advantage of matching accessories is not a dirty word. "Retailers can and should use these products to better sell to their customers," said Jon England, VP Enterprise Accessories at Shaw. "This increases their own profit margins and allows homeowners to personalize their flooring installation with the design and performance accessories that best suit their preference/need."
That's why Shaw offers its TotalWorx range of accessories, which aims to simplify the process for consumers by categorizing accessories based on installation steps (ie floor preparation to aftercare/maintenance and everything in between). When it comes to moldings and profiles specifically, the FinishWorx category encompasses the company's entire portfolio of these products.