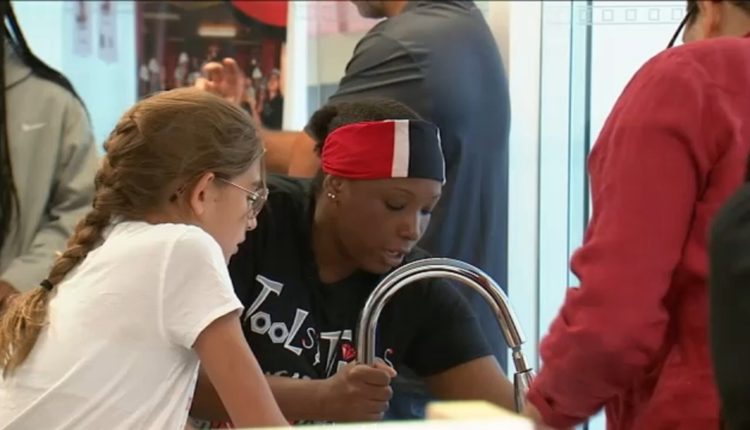 ABC7 Unite: 'Tools & Tiaras' New York City workshop introduces girls to plumbing trade
MIDTOWN, Manhattan (WABC) — A group of young girls from New York City-based nonprofit Tools & Tiaras attended a plumbing workshop sponsored by LIXIL Americas in Midtown on Thursday.
Tools & Tiaras is committed to fostering young girls' interest in traditionally male-dominated industries, including those who may want to become an electrician, carpenter, plumber or even auto mechanic.
As part of the multi-day camp, which teaches girls through hands-on construction projects, campers will experience a plumbing workshop led by Tools & Tiaras founder Judaline Cassidy.
ALSO READ | NYC Restaurant Week returns for the first time since the pandemic began
"These jobs pay very well and they are very rewarding," Cassidy said. "I used to be the only woman on the entire construction site on the construction site. Not just the plumber, but the only woman. And I really wanted a lot more women to know that they have no college degree."
Armed with plumbing knowledge, the campers will have their own opportunity to practice installing kitchen and bathroom faucets supplied by American Standard.
"It's just fun," said camper Robbie Zito-Ferraro. "Tomorrow we're going to a real construction site."
The event helps bring the Tools & Tiaras mission to life to empower girls to lead and succeed.
"We have free workshops for women and girls every month," Cassidy said. "We teach them architecture, welding, auto mechanic, engineering, coding, iron welding, everything. And we don't just teach them the trade, we teach them finance… yoga, mediation, that sort of thing. They do a lot of other things. "
Through workshops and camps, Tools & Tiaras' mission is to change the way our society views and portrays what 'women's work' is.
Currently, women represent less than 10% of construction workers.
"Tools and Tiaras is one of those organizations that guides and encourages women and young girls to realize they can do the work men do," said Debbie Drury, communications director of LIXIL Americas. "Jobs have no genders."
Plumbers retire faster than they can be replaced, and for every person who enters the trade, five retire.
One possible solution to this shortage could be women, especially given that in 2020 only 2.3% of plumbers, pipe fitters and steam fitters in the US were women.
"It was really cool when we were working with sheet metal and we were folding it, because I never knew you could fold a piece of metal with your hands," said camper Paige Brown. "It makes you feel more confident and it makes you feel, oh you can do it too, and it's really empowering and inspiring to see a woman doing a job you want."
LIXIL Americas is committed to making a positive impact in the communities it serves and has supported programs that encourage the practice of plumbing as a profession.
ALSO READ | Burger King tent goes viral with 'We all quit' message
The alignment of the two organizations is part of LIXIL's Trade Up efforts, a platform created to narrow the growing skilled labor gap in the US and inspire more people to pursue plumbing as a viable career option. .
CLICK HERE for more information about Tools & Tiaras, and HERE for more information about LIXIL's Trade-Up program.
MORE ABC 7 UNITE
See more stories at abc7NY.com/unite
SEND STORY IDEAS TO EYEWITNESS NEWS
Look here and now
Here & Now episode archive
RESOURCES
We also publish resources in various areas, which will grow and can be found below:
Ways to Help
Black Lives Matter
Black Voters Matter Fund
NAACP
National Institute for Criminal Justice Reform
Voices of Community Activists and Leaders (VOCAL-NY)
Black LGBTQIA + Migrants Project
Teaching the next generation
Black Lives Matter at school
Create space to talk about racism at your school
Teaching for Black Lives – Rethinking Schools
Black-owned bookstores in New York and New Jersey
Cafe con Libros (Brooklyn)
Grandma's Place (Harlem)
Sisters Uptown (Manhattan)
Source of Knowledge (Newark)
the lit. Rod (Bronx)
The Little Boho Bookshop (Bayonne)
Books
Born a Crime: Stories from a South African Childhood by Trevor Noah
I know why the caged bird sings by Maya Angelou
Raising White Children: Raising Children in a Racially Unjust America by Jennifer Harvey
So you want to talk about race by Ijeoma Oluo
The New Jim Crow: Mass Incarceration in the Age of Colorblindness by Michelle Alexander
White Vulnerability: Why It's So Hard For White People To Talk About Racism
Podcasts
1619
Black Wall Street 1921
Jemele Hill is not bothered
Still processing:
Movies
American Son: available on Netflix
If Beale Street Could Talk: Available on Hulu
Just Mercy: Available on Amazon Prime
Selma: available on Amazon Prime
The Hate U Give: Available on Amazon Prime
When They See Us: Available on Netflix
Documentaries
13th: Available on Netflix
America Inside Out with Katie Couric: Available on National Geographic
Becomes: Available on Netflix
I'm Not Your Negro: Available on YouTube
Copyright © 2021 WABC TV. All rights reserved.