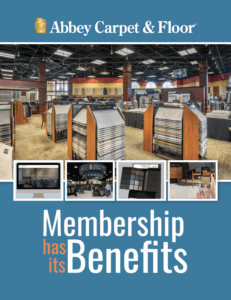 Abbey Carpet & Floor 2022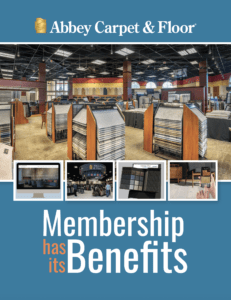 From Abbey's leadership team, which represents more than 250 years of industry experience, to private label brands, all-inclusive marketing initiatives and clean curated merchandising, Abbey Carpet & Floor offers its members an unparalleled range of benefits.
Our Abbey Carpet & Floor: Membership has its perks, replenishment provides numerous reasons dealers want to join the franchise group – all in the name of increasing sales and improving their business.
The following is an important feature of the supplement.
---
12 reasons to join Abbey Carpet & Floor
Abbey has the resources to bring in more customers, whether it's the state-of-the-art website, search engine optimization, pay-per-click or traditional advertising.
Abbey has the tools to enable a retailer to make more margin, particularly through exclusive brands and private label, making it virtually impossible for that retailer to shop.
Abbey members can offer greater warranties on the same product through its exclusive brands than an independent retailer. And offering extended warranties gives consumers more confidence.
Abbey's merchandising is designed to match so a member doesn't end up with a patchwork quilt look in his showroom with a bunch of manufacturer displays. It is a less confusing presentation of the product.
Abbey merchandise never interrupts the line of sight in the showroom, as the 62-inch displays are below the eye level of a typical consumer.
Abbey provides the tools to increase closing rates, such as a customized brochure about the member's expertise, longevity in the market, bio about the retail sales force, the skilled craftsmanship of the installers, prestigious installations, etc. This creates a safety blanket so that a consumer feels comfortable and confident when buying from this store.
Experience and leadership. Abbey's six top executives have a combined 250 years of experience in the flooring industry.
Abbey provides free, state-of-the-art websites to its members, developed by people trained and experienced in carpeting. The site includes an extensive library of products and a room visualizer. An independent retailer would have to spend more than $10,000 for the same site and pay a monthly fee of at least $1,000.
A state-of-the-art lead generation program that addresses the consumer journey to purchase, which has changed dramatically over the past five years.
A dedicated member service department. When a member encounters a problem, the member service department takes care of the problem. A solution is usually found within 24 hours.
The strength of Abbey's purchasing power, an organization with more than 600 stores, provides greater leverage among suppliers. It would be impossible for members to have the same kind of leverage individually.
Product is a composite collection. Abbey creates meaningful assortments of the products available and presents them in a way that is unique to its members. If a supplier brings 40 carpet products to market before 2023, Abbey can choose 18 or 20 of those products to market under an exclusive brand and provide superior warranties.