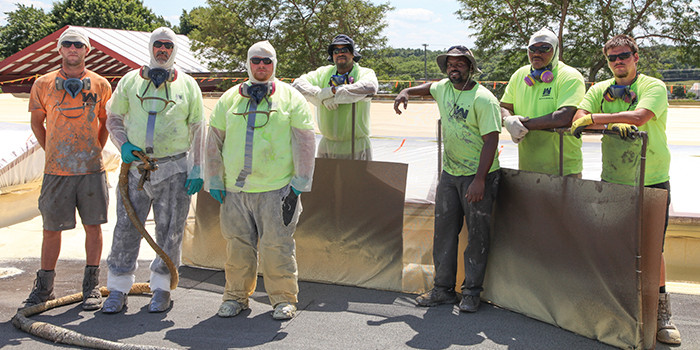 A Quality Team | SprayFoam News
We then load the trucks with the equipment and materials we need for the day. When we arrive at the construction site, we set up the security and start our day. When the working day is over, we go back to the store or the hotel, unload the trucks and call it a day. As a foreman, I also have to fill out time cards and daily logs for the day.
In your experience, what is the key to developing a good team? The key to developing a good team depends on a few things, but the most important for me is communication. Having a team that communicates well helps the day run more smoothly and ensures that everyone is on the same page. Also, when developing a good team, you must have good leadership skills and be able to assign tasks.
Give me an example of when you thought out of the box and how has this helped your employer? When I was working on a job that involved working on some train tracks from a man lift, a group of us had to get our heads together and figure out how to get this job done on time and safely. We came up with the solution to apply special wooden planks to put on the rails to keep the manlift in place and this enabled us to complete the job on time and safely.
What is the most challenging aspect of your job? I would say the most challenging aspect of my job is the weather. Bad weather makes it difficult to get the job done. As a foreman, I sometimes have to make tough decisions based on the weather, and this can slow the job down and keep the company behind schedule.
Do you have to be physically fit to do your job? If so, how do you stay fit in your spare time? In order to do my job, it is important that I stay fit and in shape. As a roofer I do a lot of manual and sometimes strenuous work, so I stay fit by being active outside of work. I like golfing, fishing and other outdoor activities.