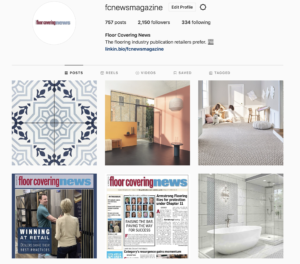 8 ways to drive more website traffic from Instagram
(This story was originally published on later.com and was edited for content and style.)
Driving traffic from Instagram is one of the best marketing tactics for your brand. With the right strategy, you can send clicks to your website, product pages, or latest blog posts. While Instagram posts and roles aren't exactly clickable, there are still plenty of ways to move users in the right direction!
We share eight strategic ways to drive traffic from Instagram:
Tip #1: Use a Link in Bio tool to create a mini landing page for your profile
The link in your Instagram bio is the most effective way to drive traffic outside of Instagram and for good reason! It is available to everyone regardless of follower count and can be a one-stop shop to drive followers to a blog post, web page or Youtube video.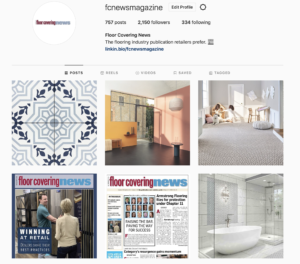 To take advantage of this feature, we recommend using a link in bio tool that allows you to share multiple links from one easy-to-navigate landing page. Linkin.bio from Later lets you build a fully customizable landing page with your important links, as well as a clickable version of your Instagram feed. When followers click the link in your bio, they can tap a button or image and be taken directly to the links you've added.
Whether you want to drive traffic to an article or website, Linkin.bio's buttons, recommended media, and linked posts are there to showcase your most important content.
Tip #2: Use Instagram stories link stickers
Instagram Stories link stickers are an important tactic when it comes to driving traffic.
If you have a business or creator account, you can share links to any destination directly from your Instagram Stories. It's a great way to see more clicks and get more exposure to your content. By using an Instagram stories planner like Later, you can sit in front of your computer, batch content and schedule an entire week's worth of Instagram stories in one dedicated session.
Tip #3: Wrap your most clicked stories into a permanent highlight
Instagram stories can disappear after 24 hours, but with an effective strategy, they can stay on your profile page forever. Enter: Instagram Story Highlights.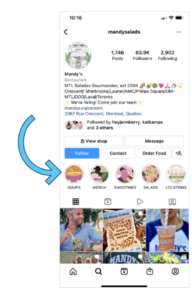 They're the best way to extend the shelf life of your stories, giving them greater reach, visibility, and a boost in traffic. Highlights help users showcase their top stories by organizing them into clear categories and topics so their audiences can quickly find the content that interests them.
Make sure to keep your highlights up to date (and at the beginning of your stories queue) to help visitors discover what you stand for.
Tip #4: Add Verbal and Written Calls-to-Actions (CTAs) to Instagram Roles
It's no secret, Instagram roles are one way to growth, but they can also be huge traffic drivers with a clear CTA encouraging people to go to your link in bio. This could be with text placement on the screen, a verbal call, in your video caption, or all of the above.
Referring users to your link in bio is a great way to get more value from your profile and only takes a few minutes to set up.
Tip #5: Collaborate with influencers (and ask them to use link stickers on stories or a Link in Bio)
You know what they say, two is better than one. And no more true are those words than when a brand or business partners with an influencer on Instagram.
It's an excellent way to leverage a different community and with the right brand ambassador, you can reach new audiences on the platform.
The result? Sponsored posts that feel real and engage your audience for those coveted clicks.
Tip #6: Set up an Instagram store
Setting up an Instagram store is a game-changer when it comes to reaching new customers and driving traffic.
The feature allows brands to compile a list of shopable products that can be accessed directly from the "View Store" button on their Instagram profile page. In fact, brands with an Instagram store can also be listed in the Instagram store tab, making their products even more discoverable for users in the app.
Tip #7: Invest in Instagram Ads
If you're looking for a quick route to get more traffic from Instagram, create an Instagram ad. Instagram ads are a guaranteed way to reach more users and with the right strategy, they can be a huge benefit to your brand.
To make your Instagram ads as successful as possible, you need to think carefully about your end goals. To get more traffic, focus on a strong CTA that encourages clicks.
Having a clear idea of ​​your goals will help you determine your target audience, creative requirements and budget, making the whole process more focused and efficient.
Use UTM tags to better understand what converts content into sales.
One of the easiest tactics to maximize your traffic opportunities on Instagram is to use your profile buttons. It's an easy way for brands and businesses to connect on the platform through action.
Whether you're a nail salon, cafe, or fitness studio, adding an action button to your profile page is an interactive way to engage with your audience. The feature drives both conversions and traffic on the platform directly.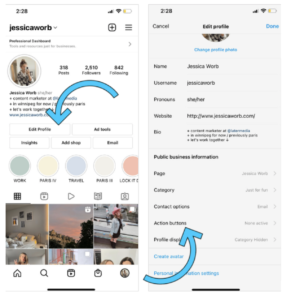 To add your own action buttons:
Go to Edit Profile and tap Action Buttons
Select an action button: Order food, Book now or Reserve.
Tap on any of Instagram's partners including Atom Tickets, Booksy, Eventbrite, GrubHub, Resy, etc.
Tap Done
NOTE: This feature is only available for business accounts.
With the right tools and strategy, Instagram can be a huge traffic driver for your brand or business. Equipped with the above tips and tricks, you'll soon be able to engage your audience and turn followers into clicks and conversions elsewhere.