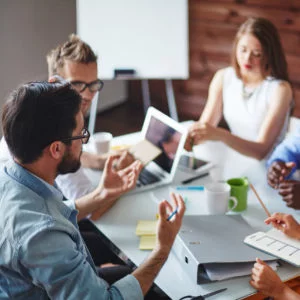 7 top training tips from leaders who've done it
(This article was originally published on hubspot.com and has been edited for content and style.)
Exemplary sales managers don't just appear out of the blue. And very few, if any, representatives can take on a management role and thrive on intuition alone. No, it takes thorough, thoughtful training to get there and that process is rarely self-evident.
Even the most effective sales leader can struggle to turn a salesperson resembling "management equipment" into a successful manager. So to make the process a little smoother for anyone struggling to turn a sales rep's management potential into legitimate management insight, we asked some experts for their tips on educating sales managers.
Help them balance new responsibilities with old skills.
Philip Simpson, head of commercial sales at FullStory, suggests that leaders should train new managers to grow without losing sight of their strengths. "As you support new leaders as they grow into their roles, you need to help them understand the balance between doing, delegating and directing," he said. "It's critical that new managers maintain their broad functional skills, especially the skills they were promoted with in the first place."
How do you get there? Well, according to Simpson, "You have to have guardrails, but give them the freedom to stumble (a lot) to know how to succeed in the long run."
Train them by breaking their new role into bite-sized chunks and help them learn by doing.
According to Ruairí Conroy, site leader at Diligent Company, leaders who train new managers should "break the nature of the role into bite-sized chunks — such as motivating a team, creating and coaching sales games, and creating a high-quality culture — and opportunities." creating for representatives with managerial potential to experience these aspects, either directly through coaching others or through role plays."
Don't try to create a mirror image of yourself.
Michael Womack, direct inside sales manager at Garrett Metal Detectors, argues that leaders should respect and maintain the individuality of new managers. "Don't try to create a mirror image of yourself," he said. "Your role in training a manager is to maximize and grow the individual potential of your team. Too often leaders are caught up in stories of what they did when they started that add little value to the development of a new sales manager."
Teach them to increase their reps to achieve common and individual goals.
Sara Leander-Pehrson, CEO of Prezentor, advises sales leaders to emphasize the value and necessity of teamwork and cohesion when training new managers. "Train your sales managers to see sales as a team effort — one that is only as strong as its weakest link," she said. "Helping each other and lifting each other up to achieve individual and common goals is the key to success."
Train them to look for the 'why' behind their numbers.
Leander-Pehrson also suggested "training new managers to look beyond the numbers and ask themselves 'why?' Why did we manage to close this deal faster than ever? Why didn't we succeed here? Why is my Rep. A doing so much better than Rep. B, and how can I copy that behavior? The best way to do this is to have regular sessions with the intern in which you ask the 'why' to these kinds of questions."
Don't overwhelm them with administrative tasks and reports.
Leander-Pehrson also said leaders need to take some administrative weight off their management trainees. According to her, you cannot "let your sales managers drown in administrative tasks and reports. Use technology to automate as much as possible so that both your sales managers and reps can spend as much time as possible on customer-facing activities."
Make training a continuous process.
Leander-Perhson also discussed how training is an active, continuous process. According to her, you should "regularly train your Sales Managers in discovering needs and communicating value. Provide them with processes and tools that support them in passing those principles on to their team. Don't send them on some fancy off-site sales training once a year. Training must be continuous, fluid and frequent, otherwise the behavior will never change and ultimately yield no ROI for the business."
Sales manager training is not self-explanatory and each sales rep you train will have their own needs, preferences, strengths and interests, so how you approach the process will vary from case to case.
It may also be self-explanatory, but this list is far from exhaustive. And as you become more familiar with this type of training, you'll likely find your own strategies that fit elements like your organizational culture, team dynamics, and personal management style.
Still, these tips are worth keeping in mind if you're taking on these kinds of responsibilities — they can just make the process a lot smoother if you figure it out.