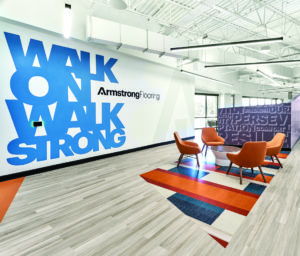 2022 Starnet Design Awards winners announced
Colorado Springs, Co.—Starnet Commercial Flooring, the world's largest network of full-service commercial flooring contractors, recently announced the winners of the 2022 Design Awards competition at a special ceremony here. Now in its 24th year, the annual competition honors the outstanding projects completed by Starnet members in collaboration with architects, designers and Starnet-matched manufacturing partners.
"This year, we've received an incredible array of project submissions through the network of partners in the United States and Canada," said Mark Bischoff, Starnet president and CEO. "After two years of varied challenges – including long lead times, product shortages and a tight labor market – our members continue to demonstrate their guts, determination and excellent setup as entrepreneurs."
The 2022 Design Awards were divided into several categories: Gold winners were selected by a jury in six categories, including Corporate/Office, Education, Healthcare, Hospitality and Public Spaces, Mixed-Use Developments and Canadian Project of the Year. (Every winner of the gold category competed for the overall Starnet Grand Prize prize for 2022.) Starnet also handed out People's Choice winners, which are nominated by Starnet members and preferred suppliers.
As usual, the jury was made up of a respected panel of architects and designers, including: Cecelia Baumann, project interior design specialist at Gravity Architecture and Design; Jena Kissinger, interior designer, Huntsman Architectural Group; and Rosa G. Salazar, RID, IIDA, ASID, director of interior design at Condray Design Group. In addition, John McGrath Jr., . Executive Director of INSTALL, was an honorary judge for the Unique Installation Challenge Award.
"The magnitude of the projects completed this year proves the true value of Starnet: the power of collaboration and collaboration with a professional floor installer," said Bischoff.
Winner of the main prize & gold in commercial
CB floors
The top prize of the Design Awards 2022 was presented to Starnet member CB Flooring, LLC, for his work on Armstrong Flooring's new headquarters and design center. The newly renovated and expanded business center is located in Lancaster, Pennsylvania. With his masterful use of bright colors and a mix of patterns and textures across multiple Armstrong product lines, the layout flows from room to room and common area to private spaces, all of which are commercial floor design in the process.
Project partners:
Designer
Preferred suppliers
healthcare
LVR Commercial Flooring
Starnet member LVR Commercial Flooring took home Gold in Healthcare for his work on the Renovation of the University Medical Center Pediatric and Radiology Emergency Center. The state-of-the-art facility in Lubbock, Texas, was transformed into a brightly colored, kid-friendly space by creating a new and dedicated children's entrance and waiting area.
Project partners:
Architect
Preferred suppliers

Ardex, Daltile, Henry Adhesives, Mannington Commercial, Roppe, Johnsonite van Tarkett, Tarkett Tandus Centiva
Education
LVR Commercial Flooring
All Saints Episcopal School is committed to providing the best education and learning environment for their students. So when their Primary Learning Center needed a refreshing update, they wanted a fun atmosphere that stimulated learning and promoted creativity. Then LVR Commercial Flooring stepped in and created this Gold Award winning educational project.
Project partners:
Preferred suppliers

Ardex, Henry Adhesives, Milliken Commercial, Roppe, Six Degrees Flooring Surfaces and XL Brands
Hospitality and public space
HJ Martin & Zonen
Gold in Hospitality/Public Space was awarded to HJ Martin & Sons, Inc. for his work on the recently opened Resch Expo Center in Green Bay, Wisconsin. The sprawling 266,000 square foot space has become a striking neighbor to Lambeau Field (home of the Green Bay Packers) along Lombardi Avenue. The $93 million facility hosts trade shows, meetings, conventions, concerts and other gatherings.
Project partners:
Architect
Preferred suppliers

Altro, Daltile, Henry Adhesives, Johnsonite by Tarkett, Mapei, Milliken Commercial, Tarkett Collection, Uzin Utz North America
Mixed Use Developments
Company floors
Starnet member Corporate Floors took the gold in Mixed-Use Developments for its work on Watermere in Southlake. Located in Southlak, Texas, the luxury residential community for seniors was originally designed over a decade ago and was in need of a makeover. It was critical that the design matched the expectations of both long-time residents and new homeowners. Carefully considering the existing architecture, finishes, furnishings and artwork that would remain, floor designs and color palettes were put together to ensure the updates fit together seamlessly.
Project partners:
Designer

Professional design concepts

Preferred suppliers

Ardex, Milliken Commercial, Uzin Utz North America, XL Brands
Canadian project of the year
Beatty floors
The second annual award for Canadian Project of the Year was awarded to Beatty Floors, Ltd. for her work at the Vancouver Convention Center. Originally built in 2009 as the world's first double LEED Platinum certified convention facility, it needed an update after 12 years of daily use.
Project partners:
Architect
Preferred suppliers

Ardex, Milliken Commercial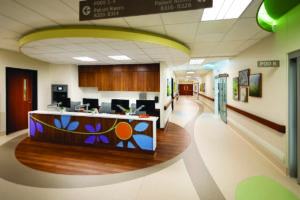 Unique installation challenge
BT Mancini Co.
The Gold in Unique Installation Challenge was awarded to BT Mancini Co., for his work on the Robert S. and Star Pepper Neonatal Intensive Care Unit at Mercy San Juan Medical Center in Sacramento, California. The facility is specifically designed to care for babies born prematurely or with serious medical conditions. One of the challenges of the project was to design patient rooms with sufficient space, not only for babies and parents, but also for an unusually large amount of medical equipment.
Project partners:
Architect
Preferred suppliers

Johnsonite by Tarkett, Tarkett Collection, Uzin Utz North America
The choice of the people
Howard's Rug Company
Starnet member Howard's Rug Company received People's Choice Gold for its work on Quidel Corporation's new manufacturing and distribution center in Carlsbad, California. The nearly 129,000-square-foot center was designed during the pandemic and built in just nine months to produce and accelerate COVID-19 test kits for countries around the world.
Project partners:
Architect
Preferred suppliers
Flexco, Johnsonite by Tarkett, Mannington Commercial, Milliken Commercial, Tarkett Collection