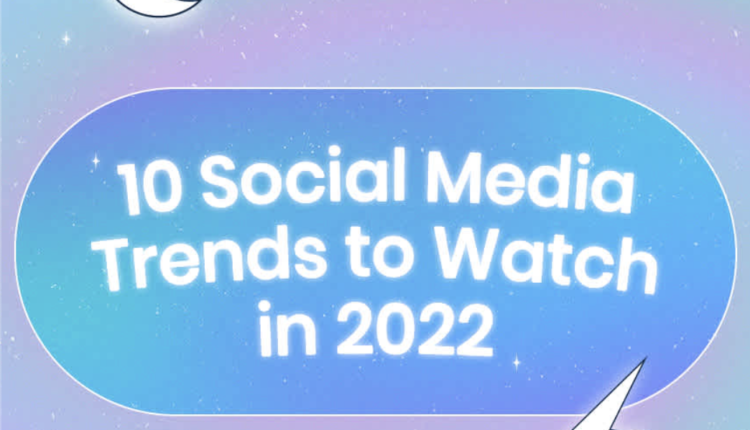 10 social media trends for 2022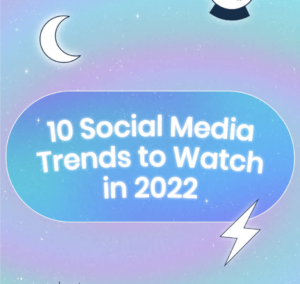 (This article was originally published on later.com)
Social media has evolved. We've said goodbye to simple status updates (we miss you!) and hello to product sales and growing digital communities. And while new social media features and trends may seem endless, they also give you an opportunity to experiment and connect with your audience in a different way.
So, what's in store for 2022? From the staying power of short video to its emphasis on mental health, Later, a social media marketing platform, recently shared the top social media trends to focus on this year.
The 'Creator Economy' will boom
The creative economy is now worth more than $100 billion, and we predict it's just getting started. Many platforms have started investing heavily in creator marketplaces and creator tools, such as TikTok, Instagram, Pinterest, and even LinkedIn.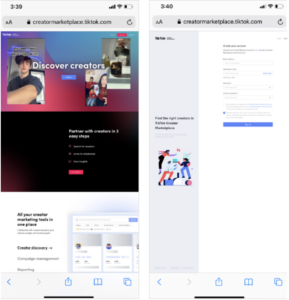 These tools make it easier for creators to connect with their audiences and collaborate with brands.
As social media platforms move into the ecommerce space, it makes sense to invest in creators who drive engagement, grow engaged communities, and promote products. And if you thought the maker community was oversaturated, think again.
There are thousands of creators who have seen tremendous growth in the span of a year or two – they just found their niche and stuck with it.
Social commerce is a subset of e-commerce where everything happens on social media: product discovery, click-to-purchase, and post-purchase support (see more about this in FCNews' Surfaces 2022 edition – 24/31) Jan.. And it's revolutionizing the way we shop:
60% of generations in the US use Instagram to discover new brands and products
Social commerce in the US is expected to grow by nearly $80 billion by 2025
71% of small businesses want to sell on social media
Social media has become a kind of virtual shopping center in the palm of our hands. Within a few clicks we can browse products, get inspiration and make purchases.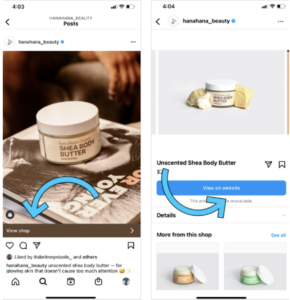 As a result, platforms have started introducing new social commerce tools:
Instagram Shops make it easier for businesses to build online stores
Instagram Checkout has been rolled out to US-based brands, allowing users to make direct purchases
Pinterest has introduced a Shop tab where users can browse and shop via product Pins
TikTok is testing TikTok Shopping, right after their extensive partnership with Shopify
Chatbots and automated direct messages are on the rise, as an additional customer service tool to communicate with customers and answer frequently asked questions
By 2022, we predict social commerce will double as each platform competes to make their store features best-in-class for both consumers and brands.
Vertical short video is here to stay
Short-form vertical video has exploded thanks to the rise of TikTok and Instagram Reels. Not only is video content an engaging form of storytelling and a way to drive sales, it's also an important growth hack:
Videos on Instagram get more engagement than other formats
Tweets with videos generate 10x more engagement than tweets without
Pinterest reported a 240% increase in YoY Organic Video Pins from 2020 to 2021
In the past year alone, brands and creators have seen video use to engage with their audience on a deeper level, showcase products and raise awareness about the charities they care about.
We think 2022 will see a lot of new trends and creative content pop up, be it fun editing transitions or in-depth tutorials.
TIP: More than 430 million people in the world are deaf or hard of hearing and 85% of video on Facebook is watched without sound. That's why we recommend using subtitles (or captions) with your videos to make them more accessible.
An emphasis on mental health and burnout prevention
According to a recent report from Vibely, 90% of creators have experienced burnout and 71% have considered quitting social media altogether. Between ongoing lockdowns, more time spent online and the pressure to consistently produce content, the digital burnout is real.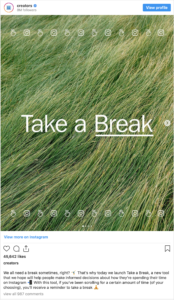 In 2021, we noticed an increase in the number of makers and brands talking about self-care, setting digital boundaries and taking breaks. And in 2022, there will be more conversations about our relationship with social media and how it affects us.
Even Instagram joined the fray, with its new "Take a Break" feature, which is being tested in the US, UK, Ireland, Canada, Australia and New Zealand:
This feature allows users to "receive in-app pause reminders" after a duration of their choosing.
Instagram says they will also provide expert-backed tips on what to do during your break, like listen to your favorite song or take a few deep breaths. While it's a step in the right direction, we're curious to see how other platforms respond and how the conversation grows (and shifts) in 2022.
A renewed focus on accountability & diversity
In 2020 we saw many brands speak out against racism, with promises to listen, learn and do better. Now, two years later, the question remains: what now?
Judging by a recent report, which found that the pay gap between white influencers and BIPOC influencers is 29%, brands still have a long way to go. While diversity and inclusion should never be a "social media trend" per se, we predict there will be an ongoing conversation about holding brands accountable for the promises they've made to their followers.
From influencer partnerships to event speaker lineups, we hope it becomes more of a standard in the future. In other words, no longer something to just cross off your list.
Memes, memes, memes
Everyone loves a good meme, right? In 2022, we predict that memes (both static and video) will have an even greater moment. We've seen thousands of niche meme accounts come on the scene for everything from astrology to social media executive issues: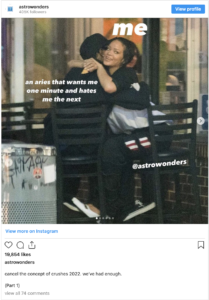 Memes are a great way for brands and creators to connect with their audiences and participate in trending conversations. In brief? Memes are here to stay, and the more creative or agile you are, the better.
Social media posts as a means of payment
Paying for a product with a social media post? Yes, it's real and this social media trend is just getting started. We first saw it with MilkUP's Ontario pop-up, where customers received free limited-edition items from local businesses by simply posting to social media: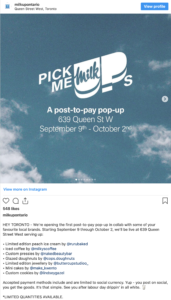 The result? Long lines and consistently sold out products. As the world reopens and brands start planning personal events, these types of campaigns could take off. View this space.
The Rise of the LinkedIn Influencer
LinkedIn and influencer: two words you probably never thought would work together. But think again in 2022. "LinkedIn is an underrated platform," said marketing strategist and creator of LinkedIn, Sara Lattanzio. "They have started investing more in makers. From creator mode rollouts to global creator programs, they make it easier to share content and grow audiences. It's just the beginning."
But why LinkedIn's sudden popularity? "The shift to work-from-home culture made many people realize the importance of creating a memorable personal brand beyond the brand you have with your company," says marketer and creator, Danica S. Nelson. "LinkedIn is a great way to create visibility and show thought leadership within your wider network."
Not to mention, the engagement potential is bananas. Check out this post with over 20K comments: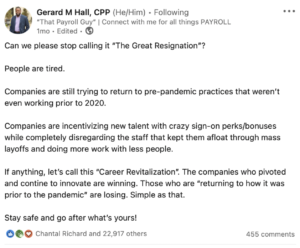 So what are we going to see in 2022? We predict that more creators are adopting the platform, professionals growing their personal brands and CEOs positioning themselves as experts in their field. "What I hope we won't see again is the recycling of polls asking whether internships should be paid or unpaid," Danica added. "Enough please."
The "No Filter" feed takes over
Creators and brands alike are moving away from the perfectly curated feed aesthetic and choosing to share less filtered and more current content.
Take @scienceoffoods whose simplistic posts look like they have no filters at all: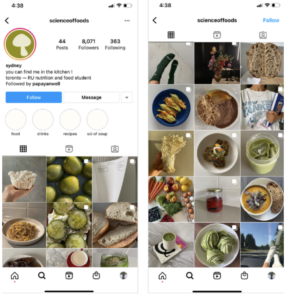 This trend goes hand in hand with the rise of authenticity in recent years, which has seen a shift in the type of content posted on social media.
We predict that by 2022, brands and creators will spend less time creating image-perfect perception and more time nurturing deeper relationships with their followers.
Brands let loose on TikTok
TikTok was the cool kid around in 2021, and that won't change in 2022.
With over 1 billion monthly active users, TikTok is a space for everyone – with a less filtered and curated vibe than Instagram. And since 60% of TikTok users are genzers (the ultimate trendsetters), we predict more brands will let go and try to tap into that market.
TikTok allows brands to be more casual and experimental. We are curious to see how this trend develops throughout the year. Like we said, social media is the wild west – it's constantly evolving. And while it can be overwhelming when a new feature drops out or a trend pops up, you can experiment with it and see what works best for your specific audience and goals.
So whether it's posting more meme content or using in-app shopping features, we're using these 10 social media trends to check out.