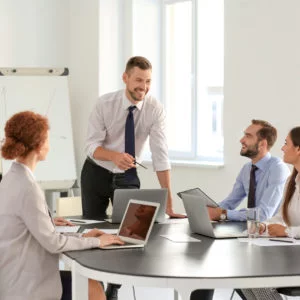 10 best sales strategies for success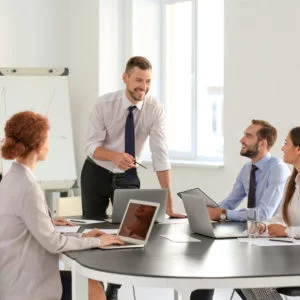 (This article was originally published on hubspot.com and was edited for content, length, and style.)
A strong sales strategy lays the foundation for a cohesive and successful sales organization. Sales strategies and initiatives also align salespeople with shared goals and empower them to do their best work, which also keeps them happy and successful.
Here are ten best sales strategies that can help you generate more leads and close more deals.
Social media is one of the most popular ways people consume information today. That's why nine out of ten retail companies are active on at least two social platforms. With the data on your side, increasing online sales through social media is achievable with some creative thinking and strategic planning.
While it may be tempting to capitalize on the hottest social media trend or go where your competitors are, that probably isn't your best bet. Time is of the essence and you want to build your pipeline as efficiently as possible. So be diligent to find out where your target customers spend their time and meet them where they are most active.
Keep in mind that your tone and voice may need to be adapted to the platform so you can connect with your audience. You want your content to blend naturally with the platform and not seem out of place.
2. Become a thought leader
Sharing your advice, proven best practices and niche expertise are some of the most sustainable ways to build your personal brand and make your organization more credible. I'm sure we can all agree that no one wants to feel like they're being sold to him. Instead, it is better to help people by offering solutions to their problems.
Thought leaders do just this, and it's even backed up by data from Edleman. In its 2020 Thought Leadership Impact Study, 88% of respondents agreed that thought leadership is effective in improving their perspectives on a company.
So, what's the catch?
Not all thought leadership content is created equal. Just as it can positively influence a company, poor thought leadership can be devastating to a company's sales goals. A quarter of decision makers who answered Edleman's survey reported that thought leadership content contributed to their reasons for not doing business with an organization. Ouch!
Before planning a series of LinkedIn posts to generate leads, consider who your audience is, what they need to know, and how your organization can help. And it doesn't hurt to have a second pair of eyes from your marketing, communications, and PR departments review your plan first to make sure everything is on-brand (and traceable!)
3. Prioritize incoming sales calls as hot leads
There's the age-old question, "Should I discuss product pricing with a prospect on the first sales call?" The honest answer is: it depends. You and your sales team know your process front to back and if you've seen success pitching with prices first, last or somewhere in between, stick with what works for you.
In addition, your team should always prioritize those prospects who are the first to sell. These hot leads are definitely interested in what you have to sell and want to know enough information about how it will benefit them before making a decision. By prioritizing talking to these prospects as soon as they call or email you, you're putting your best foot forward and showing them that you're helpful, solution-oriented, and attentive to their time. If it means closing the deal on the first call, it won't hurt as long as the customer has the information they need to make an informed decision.
4. Research and Qualify Prospects Properly
Even the strongest sales strategy cannot compensate for targeting the wrong customers. To make sure your team is selling to the right type of customer, encourage them to research and qualify prospects before attempting to discuss your product. They will find that more work up front can lead to smoother closing conversations later.
Outline the criteria a prospect must meet to qualify as a high probability lead. This should be based on a prospect's engagement history and demographics.
5. Do not hesitate to call unsolicited
Cold calling is inevitable in sales. But it doesn't have to be miserable. There are a number of cold calling techniques that actually work, including our bulletproof cold calling template. Let your sales team practice cold calls with each other before you actually call; it will boost their confidence and familiarize them with the script.
6. Offer a demonstration of the product
Pitching can be the make-or-break moment in a sales strategy. The sales pitch should be a powerful, compelling presentation, but it shouldn't come across too strong, or you'll scare the prospect off.
Study the elements of a successful sales pitch and show potential customers how they can benefit from the purchase. Let your team practice among themselves. Better yet, test your presentations on a few loyal customers and collect their feedback.
7. Provide a personal, clear end result
When customers come to your company, they are not necessarily looking for a product or service, but for the desired end result. These customers want to buy a means to improve their own operation, or simply improve their strategies using your offering.
After you've explained your product or service offering, personalize the benefits for each customer in a way that is valuable to them. If you're selling customer service software to a small business that has no experience with it, your job is to educate them about using it in a small business setting, not managing hundreds of employees in larger companies. Doing this will make it easier for them to see how to use it and spend less time debating what to use it for.
By painting a clear picture of the end result, your customer will be able to see the value of the purchase and be more likely to take up the offer.
8. Be prepared to adjust your offer
In sales conversations, you can expect to meet customers with unique requirements. It is only natural when you work with companies with different structures and needs. Instead of saying "you don't want to" or "you can't" – make sure your sales strategy can be adapted to the wishes of the customer.
9. Close deals with confidence
How you close a sale is just as important as how you start the conversation. Encourage clear, concise, and firm closing techniques to ensure your sales team sets the right expectations and delivers on their promises.
By maintaining a list of proven, go-to closing techniques, salespeople can routinely win deals. Such techniques may include the now or never closing, "If you commit now, I can get you 20% off," or closing the question, "Do you think what I'm offering will solve your problem?"
10. Nurture Existing Accounts for Future Sales Opportunities
Once a deal is closed, there is no need for a sales strategy anymore…right? wrong. Account management is an incredibly important part of the sales process, driving loyal, satisfied customers and leveraging cross-selling and upselling opportunities.
After your sales team sees success with the sales strategy, take it a step further and form a partnership between your sales team and the customer service/success teams. Ensuring that customers are lastingly satisfied with your product or service will make them more likely to do business with your company again and even advocate for it.